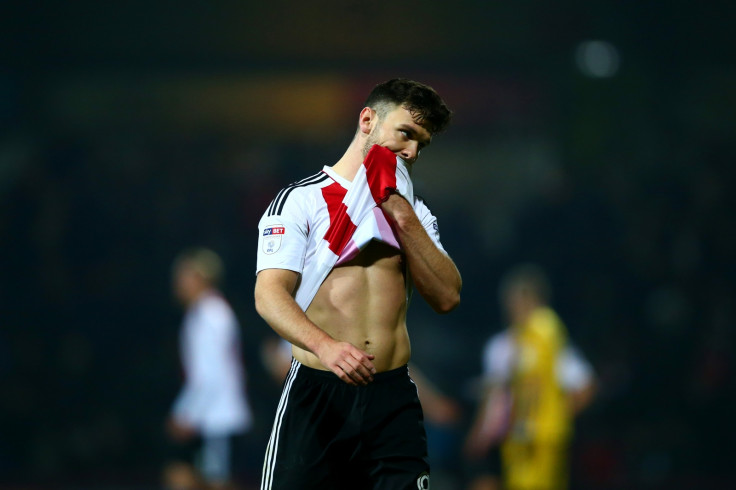 Brentford manager Dean Smith has claimed that Scott Hogan is "available" to face Chelsea in the FA Cup fourth round despite speculations linking the forward with a January move to West Ham continue. The boss, meanwhile, admitted that the Bees are trying to secure the services of Dutch winger Florian Jozefzoon from PSV Eindhoven but the deal is not done yet.
Howard, 24, has enjoyed an impressive first part of the campaign, scoring 14 goals in 25 Championship appearances. However, he has been missing in the the last two defeats to Newcastle and Wigan amid a combination of injury and transfer speculations.
Yet, Sky Sports reports that Brentford have already turned down three different offers from West Ham as the Championship club are asking £15m ($18.9m) for his services to part ways with their top scorer – while the Hammers are offering £9m plus £3 on add-ons.
But Smith has said that Hogan could return to action against Chelsea as none of his suitors have met the Bees valuation for the player.
"Scott is available for selection," Smith said in the press conference but refusing to confirm whether that means he will be in the starting line-up to face Chelsea.
"He has trained all week as he did last week but it will be my decision whether he is starting, on the bench, or not involved. We made it abundantly clear at the end of the game last week that we are not going to get affected by phone calls and that my decision about whether he plays or not will be final. We have had offers from different clubs for Scott but all of them haven't met the valuation. We keep our business strictly private and we will say no to people if we don't think the value has been met. Then it is up to them to come up with a deal that does meet ours."
The boss, meanwhile, was more open to discuss the Brentford transfer targets amid suggestions that Bees are close to secure the services of Jozefzoon from PSV Eindhoven.
In this sense, Smith confirmed that the negotiations over the Dutch winger are ongoing while played down other reports linking them with a move for Arsenal striker Chuba Akpom.
"I can confirm that we have been in negotiations with Florian Jozefzoon but we will keep things private until the deal is done," the Brentford boss added in the press conference ahead of the trip to Chelsea. "At the moment it is not done so we are still waiting on that. Sam Saunders left last week so it is a case of one out and one in where we can. We will try and get that deal but if we can't then we will move on to another target. We have not discussed Chuba Akpom. We have regular recruitment meetings with a number of players on our lists but he is not one that has been discussed at length."
Elsewhere, Smith warned Chelsea that his players are relishing the challenge of having to face the Premier League leaders and will go to Stamford Bridge with hopes to cause a EFL Cup shock.
"We know that it is going to be a tough game but it is one that we are looking forward to," the Brentford boss added. "We know the pool of talent that they have but we will be going all-out to win the game. You only have to look at who could play, like Willian and Michy Batshuayi who cost £65m combined. The group of players that I have got are honest, hard-working and will look forward to the game. We are quite used to these sort of games: we played Newcastle United a couple of weeks ago and there are big clubs like Aston Villa, Brighton and Hove Albion, Derby County, and Sheffield Wednesday in the league. Every week it is a tough game and we are getting used to playing games like this. It is not going to be a shock although they have done a fantastic job this season."