Theresa May has suffered a major blow over her Brexit plans as the High Court ruled today (3 November) that MPs must have a vote on triggering Article 50, the official mechanism to split from the EU.
The judgment, which means the government cannot start talks with Brussels until parliament votes on the issue, was made by three senior judges headed by the Lord Chief Justice.
The Attorney General Jeremy Wright was reportedly not present in the packed courtroom for the judgment.
He had argued that the government had the legal powers to trigger Article 50 under the "crown prerogative".
The government will appeal the decision at the Supreme Court.
May had promised to trigger Article 50 by March 2017.
But investment fund manager and Remain voter Gina Miller has successfully challenged the Conservative administration.
Liberal Democrat leader and Remain campaigner Tim Farron welcomed the ruling. "Given the strict two-year timetable of exiting the EU once Article 50 is triggered, it is critical that the government now lay out their negotiating to parliament, before such a vote is held," he said.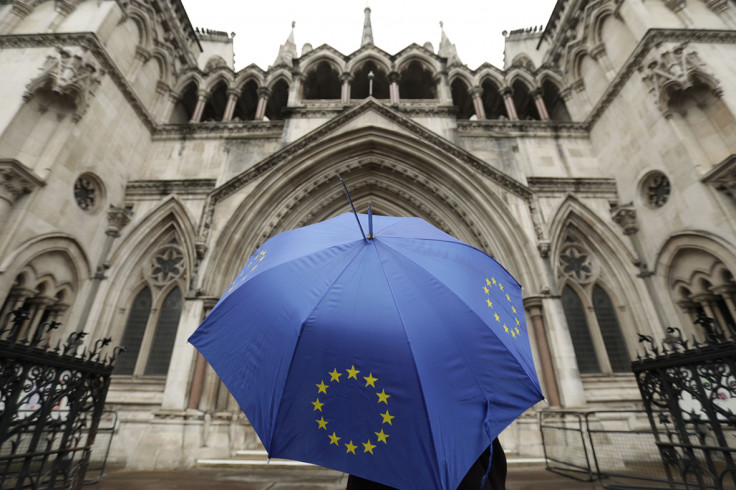 "So far May's team have been all over the place when it comes to prioritising what is best for Britain, and it's time they pull their socks up and start taking this seriously.
"Ultimately, the British people voted for a departure but not for a destination, which is why what really matters is allowing them to vote again on the final deal, giving them the chance to say no to an irresponsible hard Brexit that risks our economy and our jobs."
Interim Ukip leader Nigel Farage claimed a "betrayal may be near at hand" in reaction to the judgment.
"Last night at the Spectator Parliamentary Awards I had a distinct feeling that our political class, who were out in force, do not accept the 23rd of June Referendum result," the Eurosceptic firebrand said.
"I now fear that every attempt will be made to block or delay the triggering of Article 50. If this is so, they have no idea of the level of public anger they will provoke."
The University of Kent's Professor Matthew Goodwin told IBTimes UK the judgement could help Ukip. "If you ever wanted to know how to pour gasoline on a populist fire, this is it," he said.
"A seemingly distant group of judges being seen to undermine the will of the British people is exactly an outcome that plays strongly to Nigel Farage's claim that the will of the people is not respected by elites in London."
Labour leader Jeremy Corbyn said the ruling underlines the need for the government to "bring its negotiating terms to parliament without delay".
"Labour respects the decision of the British people to leave the European Union. But there must be transparency and accountability to parliament on the terms of Brexit," he added.
"Labour will be pressing the case for a Brexit that works for Britain, putting jobs, living standards and the economy first."