Gina Miller, the woman who lead the legal challenge against triggering Article 50 without a parliamentary vote, has been subjected to a string of abuse online including those demanding she "goes back home" after a High Court ruled in her favour.
Miller, who was born in Guyana but grew up in Britain, launched the legal challenge against Theresa May beginning the process of Britain leaving the EU after believing a "proper debate in our sovereign parliament" was needed beforehand.
The High Court ruled against the government in the potential landmark decision after declaring that the matter was "a pure question of law".
In a statement, Lord Chief Justice Lord Thomas added: "The court is not concerned with and does not express any view about the merits of leaving the European Union: that is a political issue."
Ever since the decision was made, Miller, an investment manager at London-based firm SCM Private, has been the subject of a series of racist and sexist comments on social media, with many either taking issue with the 51-year-old "interfering" in the will of the British people.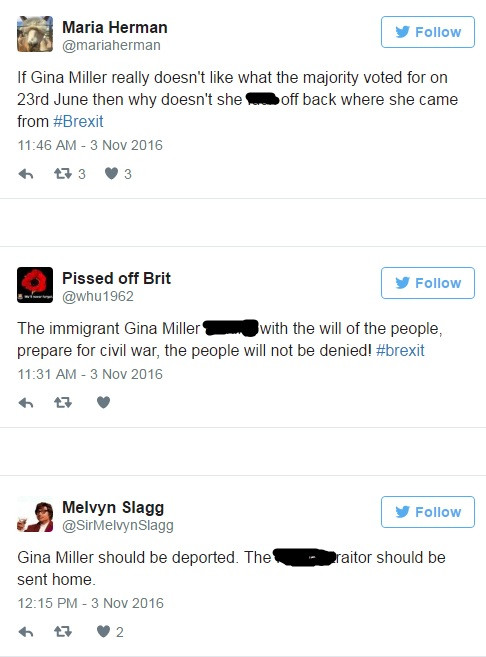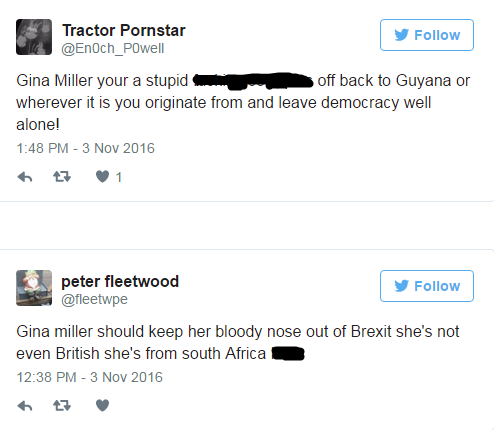 Following the ruling, Miller said outside the court the claim was "about process not politics". She added: "It's about our United Kingdom and all our futures. It's not about how anyone voted.
"Every one of us voted for the best country and the best future.
"The judgment, I hope – when it's read by the Government and they contemplate the full judgment – that they will make the wise decision of not appealing but pressing forward and having a proper debate in our sovereign parliament, our mother of parliaments that we are so admired for all over the world."