A senior Brexit minster has admitted calling his secretary "sugar t*ts" and making her buy sex toys for his wife and another woman amid a deepening Westminster sexism scandal.
International Trade Minister Mark Garnier allegedly made the comments to his former Commons Secretary Caroline Edmondson, seven years ago.
Reports have emerged about the 53-year-old MP on the same day that another senior Tory, Stephen Crabb, has admitted sending explicit messages to a 19-year-old girl.
The Mail on Sunday reported that Garnier, the member of parliament for Wyre Forest, gave money to Edmondson and waited outside a sex shop in Soho while she went inside to buy two vibrators.
Edmondson then claimed the two sex toys were for Garnier's wife and for a female assistant in his West Midlands constituency.
His former secretary claimed the junior minister called her "sugar t*ts" in the presence of other people in a bar.
She told the Mail: "Another time in the bar he said to me in the hearing of others, "You are going nowhere, sugar t*ts. He was worried I was going to go off and work for another MP. It was awful."
The Under Secretary of State did not refute the claims saying: "I'm not going to deny it, because I'm not going to be dishonest. I'm going to have to take it on the chin."
The father-of-three clarified his behaviour to the newspaper saying that they bought the sex toys in "high jinks" after a Christmas lunch, although Edmondson later claimed the purchase was planned the night before in a Commons bar.
She said: "He has lied. He suggested to me in a Commons bar one evening that we went shopping for sex toys in Soho. The next day, he said, "Come on, let's do it."
The junior minister, serving under Liam Fox, said his "sugar t*ts" comment was part of "an amusing conversation" about the TV comedy Gavin And Stacey.
Garnier said Edmondson later fell out and she had been using the incident against him "ever since".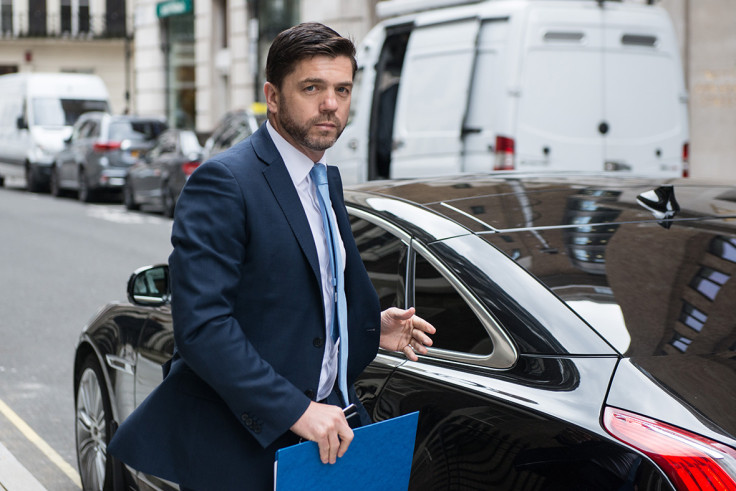 Also on Sunday (29 October) senior Tory MP Crabb, who challenged Theresa May in her leadership bid last year, was forced to admit sending "explicit" messages to a 19-year-old girl in 2013.
The teenager alleged the 44-year-old minister and devout Christian "exchanged messages...about sex" and met her for coffee and wine in the Commons.
"We exchanged messages which talked about sex but none of it was meant seriously," the married MP said.
The Daily Telegraph reported that a friend of the teenager said Crabb, a father of two, told the woman "he wanted to have sex with her".
"I accept any kind of sexual chatter like this is totally wrong and I am sorry for my actions," Crabb said.
Crabb was forced to resign from the government last year after being caught up in a so called "sexting" scandal, allegedly telling a woman "he wanted to kiss her everywhere".
The Sun reported on Thursday that cabinet ministers were among politicians named in a secret WhatsApp group of female staff which discussed sex pest MPs.
And earlier this week Environmental Minister Michael Gove apologised for making an inappropriate joke about the Harvey Weinstein sexual abuse scandal engulfing Hollywood.