More than 90% of British office workers store potentially sensitive work documents on their personal smartphones, tablets and laptops, presenting employers with a "massive security issue".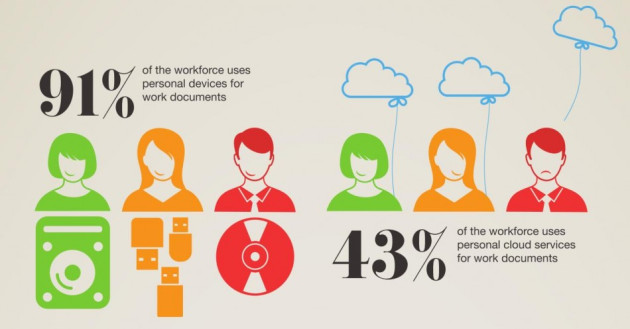 Having interviewed 2,000 office workers aged 18 to 65, Ipsos Mori and enterprise collaboration tool Huddle found that 91% store, access and share work documents via personal devices, while 43% store such documents in their own cloud services, leaving companies at huge risk of data breaches.
Commenting on the research, Huddle CEO Alastair Mitchell warns companies face losing sensitive and important data when their employees leave the office.
"Companies need to wake up and realise they're facing a massive security issue and risk having their intellectual property walk out of the door with people."
Cloud storage services from Dropbox, Amazon and Apple are not specifically designed for enterprise use and are therefore more susceptible to data loss.
The research found that 60% of workers use their own external hard drives to store company documents and almost half use USB flash drives. A third admitted to sharing work documents on USB sticks with colleagues and 13% still use CDs and DVDs to store and share data.
Mitchell added: "There's a huge amount of information available in enterprise content stores and workers are struggling to find ways to access, work on and share this with everyone they need to.
"This has resulted in a free-for-all use of personal cloud services, external hard drives, smartphones and USBs, turning the enterprise content store into a giant, unruly jigsaw puzzle. With people busily stashing data all over the place, companies simply have no idea where their content is kept."
Although generally more tech-savvy than their older colleagues, younger employees are more likely to save work files in their personal cloud storage, with 59% of 18-24 year olds guilty, compared to 40% of the 39-65s.
The research also found that men are worst offenders for so-called 'data fragmentation' - when work documents are scattered across various devices and storage services - than women.
Half of men interviewed used cloud services to store work documents compared to 39% of women, while men are also more likely than women to keep such sensitive work data on a USB drive, external hard drive or disc.