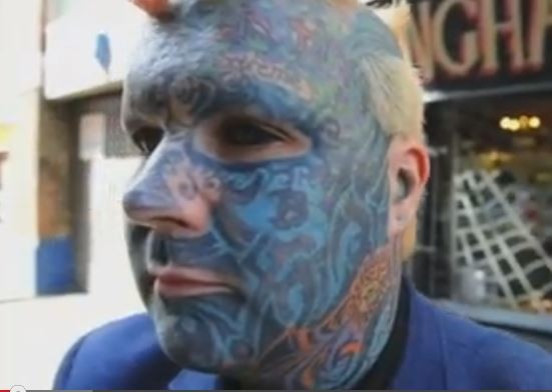 A Birmingham man has become the first person in Britain to get his face branded.
Mathew Whelan from Stechford was already among the most tattooed men in the country, with 80% of his body covered in ink. He has now got a three-dimensional artwork on his face incorporating holes made by dentist drills, Mail Online reports.
The 33-year-old, who has one of his eye whites tattooed, is an ex-wrestler and works as a body modification model. His craze for tattoos is such that he has legally changed his name to His Royal Majesty Body Art, King of Ink Land.
Whelan says he underwent face branding to enhance the tribal ink tattoos on his face.
"I am really inspired by the Maori tribes and I really want all of my tribal tattoos on my face branded", he said.
"I know it is extreme but this is my way of expressing myself and my lifestyle choice. I love it."
Human branding, where a permanent mark on the body is left with a scar of an ornamental design, is the latest craze in body art.
It involves the use of an electrical surgical machine to burn and carve onto the skin.
Unlike the normal tattooing procedure, where a needle is used to inject ink into the skin layer, branding uses electrical currents to burn the flesh.
"It is very ambitious and the most challenging branding I have ever done", Lee Westwood, 40, Whelan's tattoo artist at Birmingham Ink, said about the extreme modification done by him.
"We are going to have to do it in many stages as it is so painful, but [Whelan's] body coped very well with the first lot. He was flinching in some places but overall he did great." He added.
Whelan, who got his first tattoo when he was only nine, said he took the decision to go ahead with branding only after consulting his GP.
He has already spent more than £20,000 on altering his body image.
He told Mailonline that his tattoos do not get approving looks all the time and went on to narrate an incident when he got stabbed four years ago by a stranger who confessed, he did not like Whelan's tattoos.
Check out the video of Whelan getting his 3D face branding done here:
[Video Credit: YouTube/newsever]