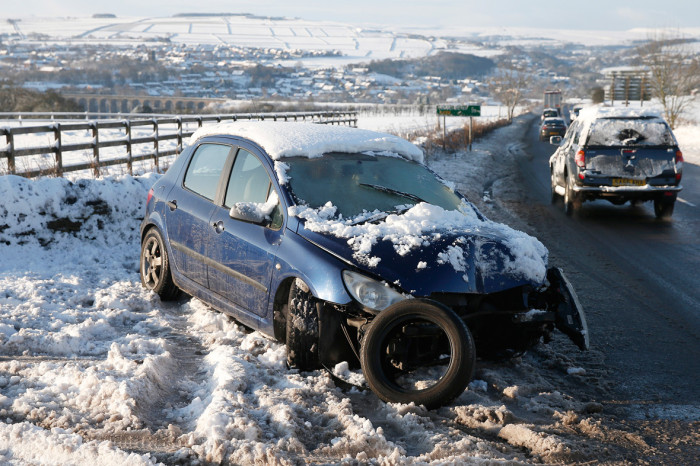 Heavy snow in Scotland and Wales closed schools and roads today and the Met Office warns the rest of the UK could be next.
Over the next 48 hours snow and sleet has been forecast for much of Scotland, as well as the possibility of snowfall in parts of England and Northern Ireland. Temperatures could drop to -4C followed by strong winds and heavy rain as "Storm Rachel" arrives on Wednesday night.
The Met Office website has issued an amber warning for snow - meaning "be prepared" - for Central, Tayside & Fife, SW Scotland, Lothian Borders and Strathclyde.
Scotland has only just recovered from last week's storms which left 120,000 homes without power. All have now been reconnected. Today at least 30 schools in the Highlands closed. Scottish transport minister Derek Mackay said there was plenty of salt in stock and the situation is being monitored.
Schools also closed in mid, north and west Wales, with snow falling as far south as Rhondda. There could be another 3-6cm of snow on high ground tonight.
A yellow warning for snow - meaning "be aware" - has been issued for Central, Tayside & Fife, East Midlands, East of England, Grampian, Highlands & Eilean Siar, London & South East England, North East England, North West England, Northern Ireland, SW Scotland, Lothian Borders, South West England, Strathclyde, Wales, West Midlands, and Yorkshire & Humber.
Strong winds are also forecast for much of the UK, with speeds of up to 75mph possible on high ground and near the coast.
The latest weather warning follows four days of strong winds across the country, including a mini-tornado in Harrow which damaged a garage.
Mark Ritson of London Fire Brigade said the weather changed quickly before the tornado struck. "It was sunny but then the sky went black, and there was thunder and lightning, hailstones and strong winds. The tornado whizzed through the area. Some roof tiles were blown off and caused minor damage to properties and cars in nearby roads but fortunately nobody was injured."