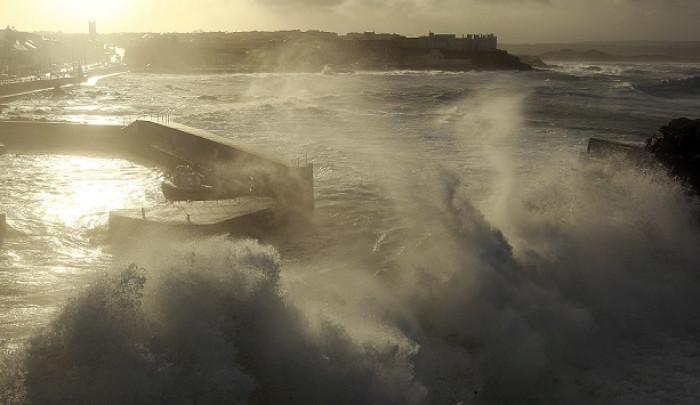 The hurricane-force winds which have battered parts of Scotland have left nearly 70,000 homes without power and entire train lines cancelled.
All ScotRail services in Scotland have been suspended until further notice as a safety precaution and Network Rail are inspecting lines for damage after 110mph winds and heavy rain caused disruption.
The Forth Road Bridge was briefly closed after a van was overturned by the strong gusts. It has since been re-opened for cars only.
Scottish and Southern Energy confirmed that around 69,000 homes have been reported without power. Engineers who were called out to carry repairs were forced to cancel their work due to the severe weather conditions.
Commuters have been advised not to travel by train until the weather calms down, as is expected later today (9 January).
A Scotrail spokesperson said: "Due to the severity of the overnight storm, all ScotRail services are currently suspended to allow Network Rail to check the lines are safe for trains to run. At present we are advising customers not to try to travel by train. Thank you for your understanding. We are working with Network Rail to re-open lines as soon as we can."
The Met Office issues an "amber" weather warning for strong winds for northern and central Scotland, with yellow "be aware" warning issued for the rest of the country and parts of northern England.
A spokesperson added: "The winds will be at their strongest through the early hours of Friday and this brings the potential for disruption across Scotland, but there is a chance that strong, gusty winds could persist into the early part of the morning rush-hour as well.
"We would advise anyone planning to travel during the early part of the morning and into the early rush-hour to be prepared for some transport disruption and check traffic and travel conditions before heading out to ensure you can make your journey safely."
The AA also warned that drivers faced potentially hazardous conditions.
John Seymour, national manager of the AA's severe weather team, said: "Scotland, particularly, is going to take something of a battering and drivers need to be prepared for possible widespread travel disruption and challenging driving conditions across the affected areas.
"If you have no choice but to drive, keep your speed down as sudden gusts can catch you out and there is a risk of debris on the roads."