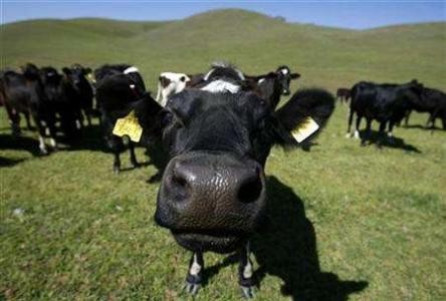 Britain's beef industry said it has been given a "vital" boost by a UK-Russia deal to lift a long-standing ban on importing the red meat dating back to the peak of the BSE crisis.
Opening up this export market again could be worth as much as £80m to the British beef trade, with Russia's expanding middle classes growing ever-hungrier for red meat.
It would help repair some of the damage done to Britain's beef manufacturers when fear over mad cow disease led to import bans across the world.
"NBA greatly welcomes the unexpected but long-awaited news from the trade mission led by chief veterinary officer Nigel Gibbens," a spokeswoman for the National Beef Association (NBA), which represents those with an interest in the beef industry, told IBTimes UK.
"This renewed cooperation between UK and Russia is excellent for the British beef industry and opens significant potential after a long 16 years.
"We see this as a vital step that demonstrates the regained confidence of the Russian market and their recognition of our UK standards and quality.
"Russia offers a fast-growing market for red meat and one which will offer a major boost to UK beef sales and live exports."
Russia banned imports of British beef at the height of the BSE crisis, which started in the mid-1980s, when the disease was first known to have infected not just cows, but humans too in a form of Creutzfeldt-Jakob disease (CJD).
It outlawed British beef imports in 1996 at the same time as the European Union.
After a decade the EU lifted its ban, but the Russians' prohibition continued.
Now BSE is all but gone from British cows after years of work by the government, farmers, and regulators.
Britain's government described the deal with Russia to lift its ban as a "landmark agreement".
"British food is recognised around the world for using quality ingredients, for rigorous production standards, and for reliable traceability. This deal is further evidence of international confidence in what British producers have to offer," said Environment Secretary Owen Paterson.
"Our food exports are booming, recently topping £18bn a year, and this Government is doing all it can to open up markets abroad."
Full written confirmation of the deal from the Russian authorities is expected within days.