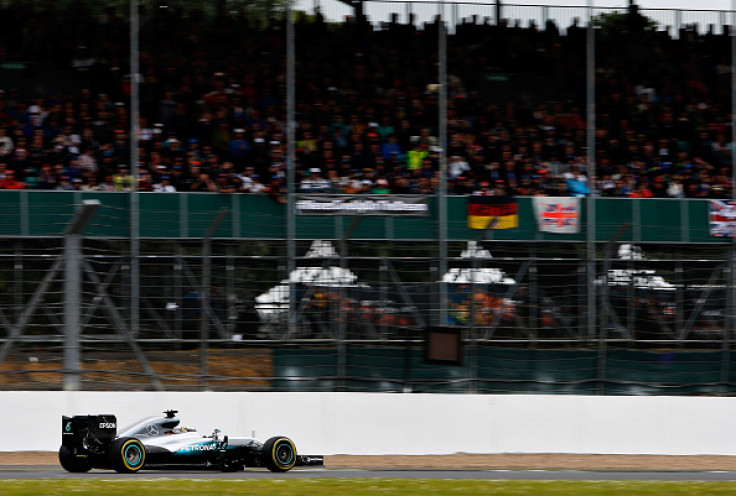 Mercedes driver Lewis Hamilton has qualified in pole position for the 2016 British Grand Prix, piling more pressure on teammate Nico Rosberg. This is Hamilton's fourth career pole at the British Grand Prix and he has won three races at the Silverstone circuit in the past.
Rosberg qualified in second spot and would be desperate to extend his 11-point gap on Hamilton, having finished behind his teammate last weekend in Austria. Red Bull's Max Verstappen and Daniel Ricciardo will follow suit in third and fourth. It was a torrid week for Ferrari, for whom Kimi Raikonnen and Sebastian Vettel finished fifth and sixth, respectively. However, Vettel will start the race from 11th spot after being handed a five place penalty for an illegal gearbox change after it gave away in final practice.
It will be a battle to watch out between the Mercedes boys, who have been given a final warning by the management for their crash in the final lap of the Austrian GP. Any further transgressions could see them being dropped from the next GP or pay heavy fines as the situation demands.
Meanwhile, McLaren's Jenson Button was eliminated in the first round of qualifying and could not make it into the top 10 which was completed by Williams's Valtteri Bottas, Toro Rosso's Carlos Sainz, Force India's Nico Hulkenberg and McLaren's Fernando Alonso. Button's rear wing came loose on turn eight and McLaren decided to not put him back after initial assessment of the damage.
Where to watch live
Race starts at 12.30pm BST on 10 July with Sky Sports F1 and Sky Sports F1 HD providing live TV coverage. Live Radio coverage is available on BBC 5 Live.
Real-time internet updates are available on the Live Timing section of the sport's official website.
Qualifying results from Formula 1 British Grand Prix 2016 at Silverstone:
1. Lewis Hamilton (GBR) Mercedes – 1m 29.287s
2. Nico Rosberg (Ger) Mercedes – 1m 29.606s
3. Max Verstappen (Ned) Red Bull 1m 30.313s
4. Daniel Ricciardo (Aus) Red Bull 1m 30.618s
5. Kimi Raikkonen (Fin) Ferrari 1m 30.881s
6. Sebastian Vettel (Ger) Ferrari 1m 31.490s*
7. Valtteri Bottas (Fin) Williams 1m 31.557s
8. Carlos Sainz Jr (Esp) Toro Rosso 1m 31.989s
9. Nico Hulkenberg (Ger) Force India 1m 32.172s
10. Fernando Alonso (Esp) McLaren 1m 32.343s