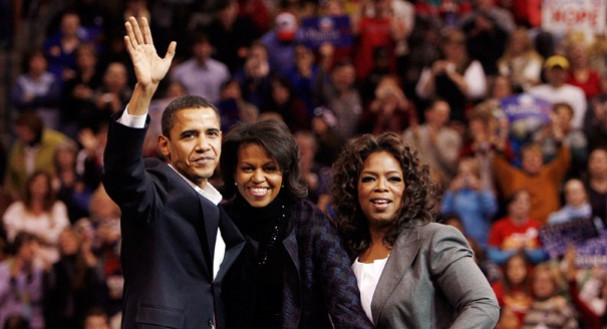 Oprah Winfrey has reportedly distanced herself from President Obama and his wife Michelle after the US leader failed to deliver on promises he made when she campaigned for him in the 2008 election.
According to the New York Post, the talk show host used her media influence to help get Obama into the White House, and believed that she would be given special access to the administration in return for her efforts.
However, when none of his promises materialised, a bitter feud erupted between Winfrey and the Obamas and she refused to campaign for his re-election in 2012.
"Oprah intended to make her unique White House access a part of her new network," an unidentified source told political journalist Ed Klein.
"There were big plans, and a team was put together to come up with proposals that would have been mutually beneficial.
"But none of that ever happened. Oprah sent notes and a rep to talk to Valerie Jarrett, but nothing came of it. It slowly dawned on Oprah that the Obamas had absolutely no intention of keeping their word and bringing her into their confidence."
In his article for The New York Post, Klein claims that Winfrey has gone as far as to distance herself from the Obamas and recently snubbed their request to help generate publicity for the Affordable Care Act, otherwise known as Obamacare.
The media mogul is allegedly still angry about the broken promises and proved that all is not well by sending a lower-level representative to attend the meeting in her absence.
"Obama hasn't budged, and neither has Oprah. She's hurt and angry, and I seriously doubt that Oprah will ever make up with the Obamas. She knows how to hold a grudge," a source close to Winfrey said.
Neither Obama or Winfrey have commented on the fued allegations.