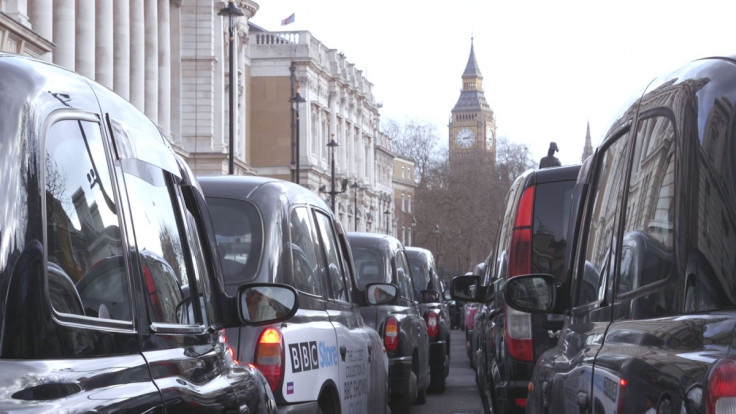 Thousands of black-cab drivers will no longer descend on Whitehall after organisers of the 23 March demonstration suspended the action out of respect for the victims of the terror attacks in Brussels. The United Cabbies Group (UCG) will now liaise with the Metropolitan Police and decide a new date for the anti-Uber protest.
The move comes after at least 34 people were killed and hundreds injured in Islamic State (Isis-Daesh) linked bombing attacks in the Belgium capital on 22 March.
"In light of the tragic events unfolding in Brussels and as a mark of respect for the victims the UCG have postponed tomorrows planned action," a spokesman for the UCG said.
"There are also heightened security measures being put in place that require specific policing tactics that will require additional resources.
"We were asked by the police to carefully consider the implications on stretched resources as our previous protests have stretched police resources to the limit. It is not our intention to place London's security at threat and we have informed the police [the] protest is postponed."
UCG, as well as the RMT and Unite unions, wants Transport for London (TfL) to do more about private hire vehicles in London. TfL enraged black-cab drivers when it dropped plans for private-hire vehicle operators to, among other things, wait at least five minutes between pick-ups.
But Uber, the popular private-hire application, branded the proposed rules as "bureaucratic". Tom Elvidge, a general manager for Uber in London, said: "By making the most of new technology we can all improve services for passengers and keep London moving."
Garrett Emmerson, TfL's chief operating officer for surface transport, said: "Londoners gave us a very clear indication of how they wanted us to shape the regulation to deliver improved safety and customer service, and we are now progressing a wide range of measures to ensure both the taxi and private-hire trades can thrive in the future."
But the dispute led to thousands of black-cabs blocking Whitehall in February, causing travel chaos around Westminster. Meanwhile, a 24-hour-long strike on the London Underground's Piccadilly Line is still going ahead from 9pm (GMT) on 23 March.