Abdu paid £41 to get to the Syrian border from his home in the besieged city of Aleppo, where he waited in the bitter cold with dozens of other refugees for the signal to make a dash across the border to Turkey. The people smugglers that help Syrians cross chose this heavily-wooded terrain as it is easier to avoid Turkish border officials.
For three hours they walked through the dark woods staying close to the muddy riverbank, he recalled, as families lost sight of their children in the darkness: "Since I was on my own I would try my best to look after them but it was impossible. Eventually one father had to toss his luggage on the ground and, whilst he lifted the smaller child on his shoulders, he grabbed the older one's hand."
After crossing the river, the group arrived at a fence that marked the Turkish border. "I would have thought the barrier was high and hard to surpass," said Abdu, a student, "but it was nothing more than a short thin barbed wire and, after our smuggler covered with it a blanket, we could all cross it easily."
On the other side Abdu paid a Turkish smuggler £31 and quickly realised that huge numbers of Syrians were also in the area, all headed for the village of Guvecci. Once he arrived, Abdu hid for hours in the woods until a bus drove him, the family and another couple to a garage in the Turkish border town of Yayladaği.
Abdu's journey is one made daily by hundreds if not thousands of Syrians fleeing the country's brutal civil war. Turkey is already home to some 2.6 million refugees but that has not stopped Syrians making the journey from cities like Aleppo, decimated by five years of conflict.
As a result of the deal, refugees in Turkey said, it is far more difficult to cross from Syria to Turkey: "If you are neither a Turkmen nor a severely injured person, your only chance to leave Syria is crossing into Turkey illegally," said Umm Abdu, a Syrian woman settled in Gaziantep.
She was referring to the over 5,600 Syrians of Turkic heritage who have entered the country since 24<sup>th November – when the combined attacks of the regime and the Russian and Iranian allies intensified – as well as those who have been given access for medical treatment.
Ahmad and Amani crossed in February 2016 with their two children after their house in Aleppo was shelled: "Most of our friends and neighbours had already moved to either Idlib or Turkey," Ahmad told IBTimes UK, "but we endured until the situation turned so bad that staying would simply mean... dying."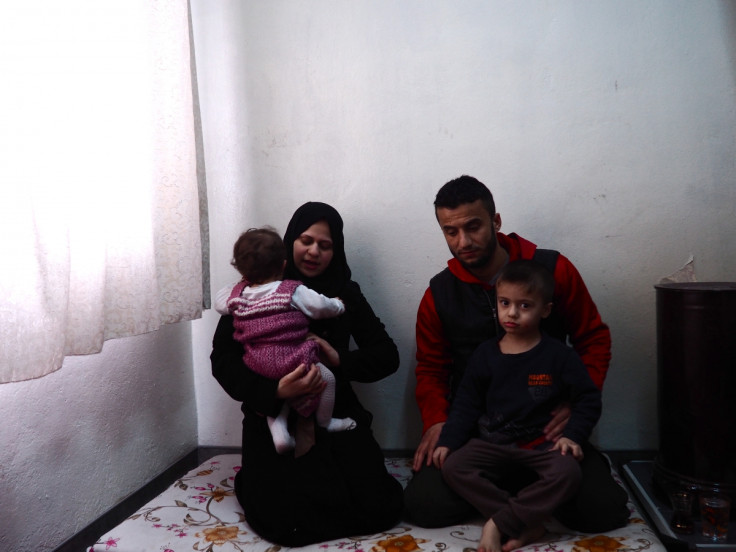 They sold the few valuables and packed the little stuff they had left and bought bus tickets to the Turkish border through a smuggler known as Mahmoud. The journey cost Ahmad and his wife £275 and when they arrived, like Abdul, they had to trek through the woods: "My wife fell down several times and got all wet and dirty," said Ahmad, "and my children were very scared because they could hear the Turkish police shooting in the distance. When their shoes got stuck in the mud, I abandoned all my bags and helped them face the hard road ahead."
The family were not as lucky as Abdu, however, and when they arrived at Guvecci they were surrounded by the Turkish police and forced into a military base with hundreds of other Syrians. Women and children in a room, men in another one, "with no food, no water, not even a blanket," said Ahmad.
"A man was bleeding after being shot by the police but no one would help him... My wife showed them her kimlik (the Turkish ID) but they yelled at her to put it away."
The morning after they were all sent back to Syria. Back at the border town of Jabal el-Turkman they had no choice but to contact another smuggler, to whom they gave £175. This time Ahmad and his family reached Guvecci safely.
The family was then handed over to a Turkish smuggler and taken to Yayladaği. From there Abdu, Ahmad, Amani and the kids were driven to the Hatay capital of Antakya, before being transferred to Gaziantep.
What happened to them is "like an action movie", as Ahmad appropriately defined it, but they would now try to get the legal documents and a job in Turkey. Before our interview ended Ahmad insisted to add something. "The world needs to help us Syrian people, otherwise we will all die and... It will have blood in its hands."
---
Eleonora Vio is a freelance journalist based in the Middle East and co-founder of the Nawart Press media platform and association. Costanza Spocci contributed to this report.
---