Budget 2016: HS3 rail link between Leeds and Manchester finally set to get green light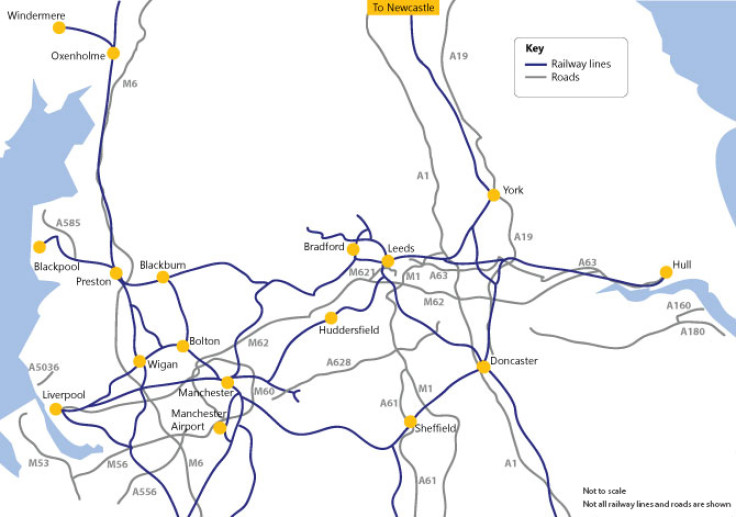 Chancellor George Osborne will announce a number of major infrastructure projects in his 2016 budget, the Treasury has announced. These include an extension to the controversial high speed train network to link Manchester and Leeds, a tunnel beneath the Pennines linking Manchester and Sheffield, Crossrail 2 linking Surrey and Hertfordshire and the building of tens of thousands of new homes.
Transport links in the north have been poor for decades, particularly between the conurbations of Manchester and Merseyside in the west and Yorkshire and the northeast. The building of a high speed rail luink (HS3) between Manchester and Leeds could have a huge impact on the region as part of Osborne's declared ambition to help create a so-called "Northern Powerhouse." The motorway network in the region – in particular the M62 – would also be improved.
According to the National Infrastructure Commission (NIC) the transport network in the north requires "immediate and very significant investment" in order to become more competitive and encourage employment opportunities and economic growth. The NIC says travel times between Leeds and Manchester could eventually be cut to as little as 30 minutes if the HS3 gets the go-ahead.
"Leeds and Manchester are just 40 miles apart but there is no quick and easy way to travel between the two," said NIC chair Lord Adonis. "In rush hour it can take more than two hours by car, by train it can be almost an hour. We should kick start HS3 across the Pennines and slash journey times to just 30 minutes. But we must not wait decades for change – journey times should be cut to 40 minutes by 2022."
The boost for the north will be welcomed by businesses and commuters there, who often feel London receives more than its fair share of investment. Osborne has not forgotten the capital and is poised to announce a new Crossrail 2 train route between Surrey and Hertfordshire, linking a number of central London stations and tying in with the East-West Crossrail 1.
Osborne is also poised to announce an extra £1.2bn ($1.7bn) on building an estimated 300,000 starter homes on brownfield sites across the country in a bid to ease the housing shortage. Altogether Osborne has put aside £30bn for major projects – though he has stressed savings will have to be found elsewhere. He will also announce that every school in the country will become an academy.
© Copyright IBTimes 2023. All rights reserved.