"I am a Trabzonspor player until the end of the season; if I were to move abroad I would want to move to a big club. I would accept a transfer to Arsenal," Burak Yilmaz January 2011
At the time, me neither.
You would have been forgiven for dismissing the apparent arrogance of unknown Turkish striker Burak Vilmaz 26 months ago. After a first season at Super Lig side Trabzonspor during which he scored three goals in 10 domestic appearances, Yilmaz had netted nine in the first half of the 2010/11 season during which he claimed a move to Arsenal would suit him.
Few would have expected that since then, the 27 year old has done his billing justice, and then some. He finished that auspicious season with 19 league goals. The following campaign, he scored 33 in 34 starts, more than half his side's goals.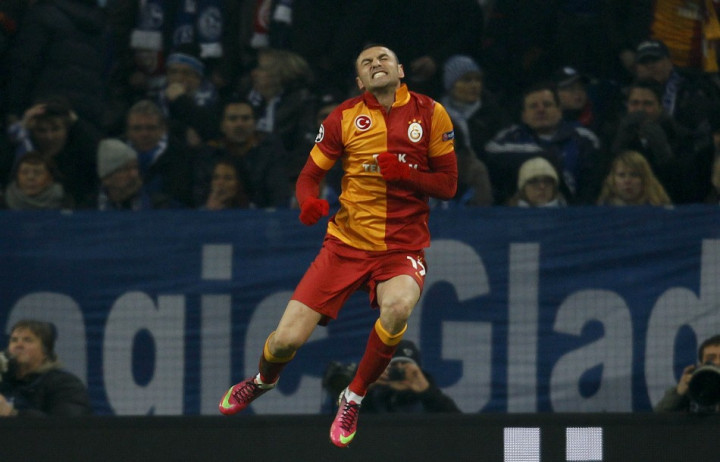 Despite signing an improve four year contract in July 2011, don't think Yilmaz isn't a mercenary like the remainder of football's society; he joined arch rivals Galatasaray the following summer as he took his 2012 goal tally to 37, one fewer than Robin van Persie.
Another 22 goals have followed this season following the summer switch, most impressively in the Champions League where eight goals in as many games has helped Galatasaray into the quarter finals of Europe's premier club competition for the first time for 12 years.
His haul in the group stage outstripped both Lionel Messi and Cristiano Ronaldo, who netted the same amount of goals as the Turk but across more minutes, earning him the UEFA.com best player of the group stage prize.
Come the last 16 clash with Schalke 04, Yilmaz has continued his goal-a-game ratio by first thundering home in the first leg to hand Galatasaray the lead, before a crucial intervention in the second leg put the tie beyond the Bundesliga outfit.
Having already scored against Manchester United, Yilmaz hardly needs to prove himself against one of Europe's elite, but with Real Madrid, Barcelona and Borussia Dortmund among potential opponents in the last eight, Yilmaz's stock could broaden still.
Arsene Wenger's early reputation in English football was built on plucking relatively unknown players from across the continent, sharing his football philosophy before they thrill on the world stage.
That success has made way to inept signings and wasted funds. While you can't blame the Frenchman for not continuing to pull rabbits out of the hat, if Wenger is the professor of the game we all know he is, didn't he see Yilmaz's plea coming? The reality is of course, at the time, only Galatasaray did.
Yilmaz this summer is likely to become subject of intense speculation over his future, and while Galatasaray's progress in Europe is encouraging, the riches and prestige of the continent's finest leagues will surely become too great a temptation.
But by then, with their competitiveness in the transfer window on the wane, Arsenal will have missed their chance.