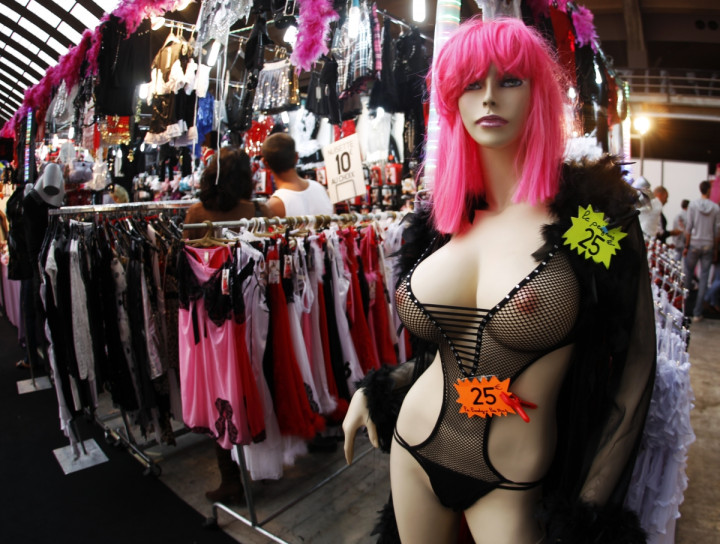 A man wearing a wig, a dress and crotchless panties attacked an adult store worker with sex toys during a bungled burglary in Brisbane, Australia.
Police said a 34-year-old man broke in through the ceiling of the store in Aspley, a northern suburb of Brisbane, early on Saturday.
The female manager was alerted when the burglar alarm went off, and she confronted the man.
The thief then began to hurl sex toys at the woman, before fleeing back through the ceiling and on to the roof, where he was arrested.
Police have charged the man, who is from Murrumba Downs, with breaking and entering and possessing dangerous drugs.
It was the second time in a week that thieves in Queensland had targeted sex shops, after a burglar fell through the roof of a shop in Cairns.
Police allege that the 22-year-old man grabbed a Fantasy Fetish pack, which contains a saddle, before attempting to make his getaway.
Witnesses called police, who arrested the man near the scene. He was charged with five theft and burglary offences.
A sex store franchise in the US made headlines after two of its Washington branches were targeted by burglars in the space of a year.
In March, a man was arrested in the Olimpia Lovers adult store in Olimpia pushing around a trolley he had loaded with sex toys.
"He let the police know that he felt he was being harassed and that they were only doing this because he was transgender," manager David Leigh told KOKHTV.
"But he did a fine job of getting some pretty great stuff in a very short period of time," he said.
The previous May, a man broke into a sex shop in Silverdale and stole a store mannequin. Police said that 24-year-old Arthur Ray Brown later returned to the store and broke in again wearing the mannequin's wig.
He was arrested that night.