They said it would never happen, even the band members admitted that is was unlikely, but now James Bourne, Matt Willis and Charlie Simpson have announced that Busted are reforming after 10 years apart. The rock-pop trio will be kicking off their reunion with a UK tour, which will begin in May 2016 but have also promised that new music will be on the way soon.
"For me, there's a huge sense of unfinished business," confessed Willis during a press conference in London's Soho Hotel to announce the big news. "I think I always thought in my heart we'd do Busted again, but that it was just a matter of when and how."
The 13-date UK tour will start in London on 11 May, and conclude in Dublin, Ireland on the 31st. Bassist Willis playfully joked during the press conference: "Busted only had two albums. So we're probably going to play every song that you know then start all over again [for each show]," but if they are already making headway with brand new music, there's bound to be a few surprises along the way.
They promise their new sound won't be "heavy" and will still maintain that "cool pop" vibe that their old fans loved, but the new material won't necessarily be the same kind of sound we were used to hearing in hit tracks such as Air Hostess, What I Go To School For and Year 3000.
"This is a progression, a new thing," Simpson explained. "This is not a nostalgia trip, or me cashing-in. If I'd wanted that I would have done McBusted. And that's so far away from where I am. But the prospect of performing the old songs is still exciting for me – especially as that leads us into the idea of writing and recording new songs together."
Back in the early 2000s, the Southend-On-Sea-based trio sold five million records, released two platinum albums and added four number one singles to their list of achievements. They won two Brit awards, a Record Of The Year award with Thunderbirds Are Go, and once sold 700,000 concert tickets in a year. But they were forced to go their separate ways when youngest member Simpson, after not feeling connected to the creative direction the band was going in any more, left and went on to start new group, Fightstar.
"It came down to one fundamental issue: the band was a true representation of me and Matt as artists," Bourne remembered. "And in the second year that wasn't the case for Charlie. His passion drifted, just as the band was at their peak. He thought 'this isn't me' and I completely respect that."
Simpson said: "I had to show people there's other elements of who I was, and now I've done that I feel so much more relaxed. And I can be here and enjoy it – and all that stress I remember from before just isn't there. So
Tickets for Busted: The Tour go on sale at 9am on Friday 13 November (Live Nation pre-sale will begin the day before) and will be available to buy from Live Nation, Ticket Master and VIP Nation.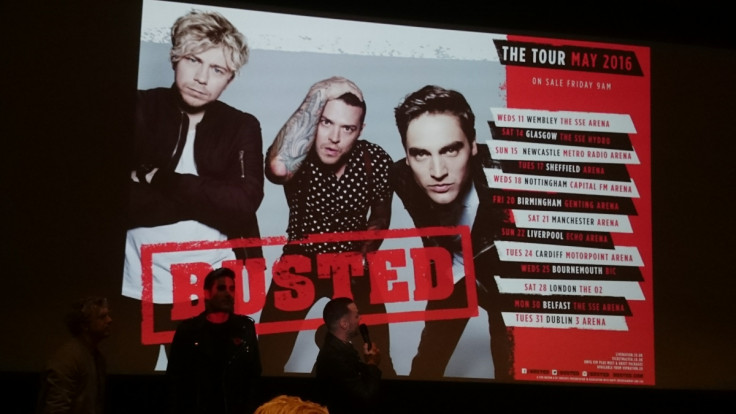 For all the latest entertainment news follow us on Twitter @alistinsider.