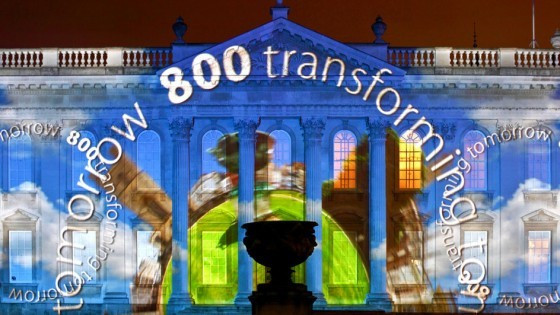 The University of Cambridge has raised more than £1 billion over the course of a decade-long campaign celebrating its 800th anniversary.
The campaign, the total of which is the largest ever announced by a European university, drew £649 million from the University and £523 million from its colleges. The university will look to invest the new funds in students, academic staff, research facilities and its infrastructure, as well as in maintenance of libraries, museums and buildings.
The campaign was supported by alumni and friends from across the world. As many as 54,000 alumni of the college, more than a quarter of the total, have contributed at least once to a college and more than 8,000 have contributed at least once to the University.
Acknowledging the success, the Vice-Chancellor, Professor Sir Leszek Borysiewicz, announced plans to launch another campaign.
"This is a remarkable achievement. I pay tribute to my predecessors, Alec Broers and Alison Richard, who saw the need for such a Campaign and then led it with such distinction. The University and the Colleges are immensely grateful to all our donors who have given to this campaign so generously," said Professor Borysiewicz, in a statement released by the University.
"It is now the right time to declare that the 800th Campaign is complete. But, paraphrasing Churchill, this is simply 'the end of the beginning'. The need for philanthropic funding to sustain Cambridge's position as one of the best universities in the world has never been greater. To be a global leader in education and research requires Cambridge to continue to be a leader in philanthropy. We are beginning, immediately, to prepare for a new, even more ambitious Campaign," he added.
According to Peter Agar, the Director of Development and Alumni Relations, the money was "an investment in Cambridge."
"A lot of people think we've now got an extremely large safe with £1.17 billion in it, but a lot of the money is for very specific things," said Agar to the BBC, "Most comes in to support students, bigger bursaries and more generous scholarships."
He further said the education costs undertaken by the university for an undergraduate student stood at £17,500 each year.
"If you take off what we get from fees or the government, it actually costs us about £9,000 a year and we have to find that from somewhere. We've also created something like 35 new professorships during the campaign, and new buildings are going up around the city," said Agar to the BBC.
Founded in 1209, the university is celebrating its 802th anniversary with a fund-raising campaign initiated in 2001.