David Cameron has taken aim at the welfare system and the "culture of entitlement" by suggesting a series of benefit cuts.
In a lengthy speech Cameron set out his party's stall on the welfare state with a call for wide-ranging debates on the alteration of the benefits system that will appeal to the Tory right.
The prime minister proposed restrictions on benefits for jobless families with large numbers of children, scrapping housing benefits for the under-25s and making the unemployed take on community work in order to secure their payments.
He said: "We have, in some ways, created a welfare gap in this country between those living long-term in the welfare system and those outside it.
"Those within it grow up with a series of expectations. You can have a home of your own, the state will support you whatever decisions you make, you will always be able to take out no matter what you put in.
"This has sent out some incredibly damaging signals. That it pays not to work. That you are owed something for nothing. It gave us millions of working-age people sitting at home on benefits even before the recession hit. It created a culture of entitlement."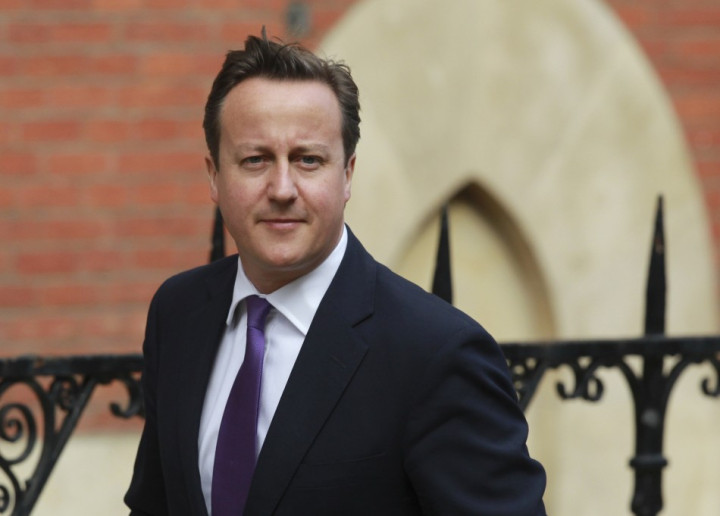 Welfare gap
Cameron's comments will sit well with the more strident voices on theTory right, who have voiced frustration with the levels of benefit abuse in the country.
He made it clear that he would not backtrack on his pre-election promise to maintain the state pension and winter fuel allowance for the over-65s.
Instead it was the component that he described as "working age welfare", which accounts for around £84bn of annual government expenditure, which he claimed has "gone truly awry".
He took the opportunity to criticise the Labour government for creating the welfare culture by creating what Nick Clegg called the "poverty plus £1" approach of pushing people £1 over the poverty line and considering the job done.
"This government is challenging the old narrow view that the key to beating poverty is simply income redistribution," he said.
Proposals
Cameron said: "This year we increased benefits by 5.2 percent. That was in line with the inflation rate last September, but it was almost twice as much as the average wage increase.
"Given that so many people are struggling to make ends meet we have to ask whether this is the right approach."
He claimed it was "extraordinary" that there are 1.4 million people who have been our of work for the past 10 years.
Claiming that the benefit cap would put a stop to the most outrageous housing benefit cases, he said that people could still seek housing support up to a rate of £20,000 a year, which is 25 percent higher than the average paid rent in Lonson.
Based on rent being considered as a third of post-tax income, he said this means that a working person would have to be on a wage of around £80,000 to afford the rent.
"Surely we should ask if it's fair that the maximimum amount that you can get on housing benefit is set at a level that only the top five percent of earners would otherwise be able to afford."
Parents
Cameron claimed the welfare system sent out the wrong signals when it comes to people deciding whether to have children.
"If you are a single parent living outside London - if you have four children and you're renting a house on housing benefit - then you can claim almost £25,000 a year," he said.
"This is more than the average take home pay of a farm worker and a nursery nurse put together."
He added: "The bigger picture is that today one in six children in Britain is living in a workless household - one of the highest rates in Europe.
"We have been encouraging working-age people to have children and not work, when we should be enabling working-age people to work and have children."
Parents who already have children could find them staying in the house longer than expected following Cameron's suggestion to scrap housing benefits for the under-25s.
There are 210,000 people aged 16-24 on housing benefits and Cameron said: "Some of these young people will genuinely have nowhere else to live - but many will.
"For literally millions, the passage to independence is several years living in their childhood bedroom as they save up to move out.
"While for many others, it's a trip to the council where they can get housing benefit at 18 or 19 - even if they're not actively seking work."
He claimed the benefit system penalises households that claim benefits if their child wants to go out to work, with a non-dependent deducation that can cut up to £74 of weekly housing benefit.
"In effect the state doesn't just open the door to dependency for young people, it drags them in."
Requirements
Finally Cameron elaborated on the need to change what is expected from a person on benefits.
He suggested a benefit system which required a person to achieve basic literacy and numeracy skills and put together a CV, while those who are on disability benefits could "take more steps to improve their health".
He also mooted claimants having to carry out some sort of community work to maintain their welfare payments.
Reception?
Cameron admitted that the points he raised were "provocative", but added that they were also "long overdue".
"Frankly a lot of it might rub people the wrong way," he said.
The proposals will do little to ingratiate Cameron with the young and unemployed, many of whom already feel cheated by the government following the last budget and the decision to cut the 50p tax rate.
Shadow work and pensions secretary Liam Byrne told the Today Programme: "Each week we hear of another new initiative, another crackdown, another test.
"Meanwhile, in the real world, the cost of out-of-work benefits is up nearly £5bn, housing benefit over £4bn, the Work Programme is failing and the multibillion-pound universal credit scheme is running late and over budget.
"Welfare spending is going up under this government because too many people are out of work, but at the last budget the Chancellor's priority was not help to get people out of work but a tax cut for millionaires.
Campbell Robb, chief executive of Shelter, said: "It's outrageous that the government is considering undermining the housing safety net yet again."
The first glimpse of Liberal Democrat discomfort with Cameron's speech came from Cardiff MP Jenny Willott, who told Sky: "Some of the proposals I would have serious concerns about, particularly removing housing benefit from the under-25s.
"There are lots of people that really rely on that benefit."