Britain's youth might be starting to wonder what it is that David Cameron has got against them.
The prime minister's latest blow to young people comes in the form of a proposed scrapping of housing benefits for the under-25s.
In a speech announcing Cameron's challenge to "the culture of entitlement" in the UK, he will say: "For millions, the passage to independence is several years living in their childhood bedroom as they save up to move out; while for many others, it's a trap to the council where they can get housing benefit at 18 or 19 - even if they're actively not seeking work."
With an increasing number of 18-25-year-olds struggling to get a foot on the rung of the housing ladder and youth unemployment at 21.9 percent in March, Cameron's announcement will represent a significant blow to many young people, not to mention the parents left with no choice but to house them.
Despite his fondness for "chillaxing", Mumford and Sons and hoodies, it seems Cameron will continue to struggle to connect with his youngest voters.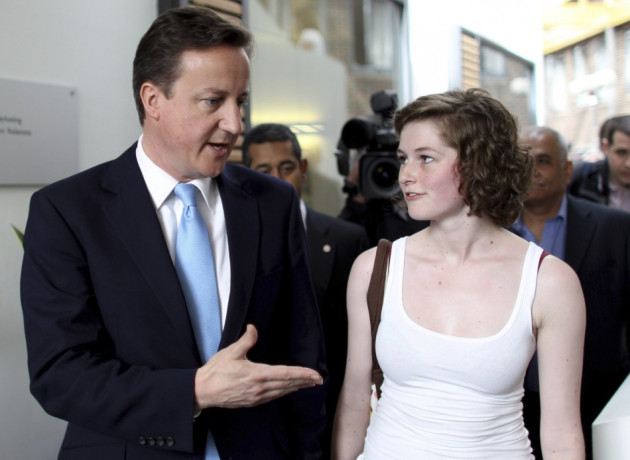 Student fees
The coalition's strained relationship with the young had its biggest flare-up with the late-2010 announcement of changes to tuition fees.
The change meant that universities would be allowed to charge as much as £9,000 a year in fees, pricing many young people out of university and leaving hundreds adrift in a job market that requires the seemingly mutually exclusive duo of qualifications and vocational experience.
Although it was the Liberal Democrats and their leader Nick Clegg who took the biggest political pasting for their U-turn on tuition fees - having signed a pledge that they would never do such a thing - the Conservatives were still seen as the ones to pul the plug on many further education dreams.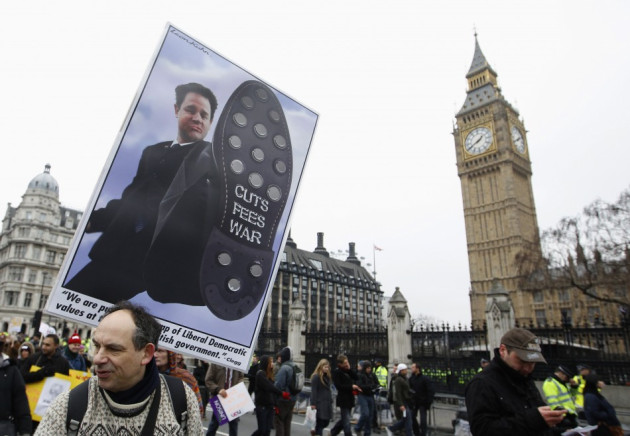 EMA
The same year saw education secretary Michael Gove reveal the cutting of the Education Maintenance Allowance (EMA).
The decision to ditch the national means-tested scheme of support for lower-income youngsters aged between 16 and 19 saw it replaced with a new bursary scheme in England. It continued in Wales, Scotland and Northern Ireland.
Bursary or not, the removal of the EMA and the tuition fee changes left many young people feeling adrift and cheated by the coalition government.
Jobs
When it comes to youth unemployment Cameron made his share of promises before the general election. He claimed he could pull 400,000 young people into the job market with training and apprenticeship initiatives.
When he won the vote he removed Labour's Future Jobs Fund, a scheme which aimed to provide work (possibly temporary) for any young person who found themselves without a job for a year, and replaced it with employment support scheme, the Work Programme.
Although employment minister Chris Grayling announced in May that the plan had found work for 100,000 people in its first year, youth unemployment continues to creep up, while the average wage for a young person has fallen in real terms while increasing for everyone else.
Also in May the government announced that it would freeze the national minimum wage for 16-20-year-olds, meaning 16 and 17-year-olds could be paid £3.68 an hour and 18-20-year-olds £4.98 an hour, against the full adult rate of £6.19.
Business secretary Vince Cable stressed that an increase in wages would have made it more difficult for young people to get a job, but it is unlikely that the decision will have enamoured the coalition with young workers struggling through austere times.
The lost generation?
The increased competition for qualifications and jobs has seen critics warn that the government is creating a "lost generation" of young people who find themselves without a stake in society.
The same could well be true when it comes to young voters.
Following the London riots, Cameron was outspoken on his plans to turn around "broken Britain" and bring those young people who have been failed by the state back into the fold. He will struggle to do so with so many young people feeling abandoned by their government.
When student Chloe Green ambushed Cameron to explain his tuition fee cuts in April 2010, he stopped and gave her a careful measured answer. She responded with "I don't believe you", a simple rebuttal that could be seen as an accurate reflection of young peoples' attitude towards their prime minister.