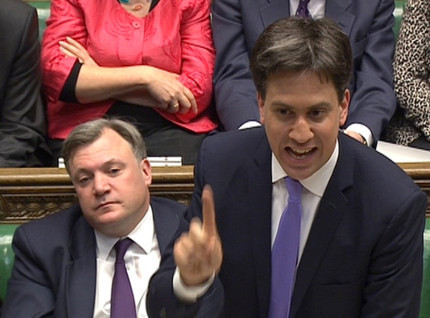 David Cameron has defended his handling of the Maria Miller affair during angry exchanges with Ed Miliband in the Commons.
Just hours after the culture secretary resigned from her job over the expenses row that has buffeted the government for a week, Miliband attacked the prime minister for refusing to sack her earlier.
"The reason the public was so appalled was that if it had happened in any other business, there would have been no question of them staying in their job. Why was he the last person in the country to realise her position was untenable?" he asked.
"Does he not realise that his failure to recognise what went wrong has undermined trust not only in his government, but in politics?"
"He needs to learn profound lessons about how he runs the Government. He spent the last week being an apologist for unacceptable behaviour," Milliband roared.
But Cameron hit back saying Miller had been cleared of the substantive charge arguing: "I thought it was right in those circumstances to allow her to make her apology and continue with her job.
"If he thinks that it is leadership to fire someone at the first sign of trouble rather than actually giving someone a chance to get on with the job, that is actually not leadership, that is weakness," he said.
He suggested Miliband was jumping on a bandwagon and playing politics with the issue, asking why he had not called for her resignation himself.
That led Miliband to declare: "I've heard everything. Now it is my job to fire members of his cabinet."
The exchanges did see Cameron attempting to rebuild some of the damage done to his relationship with MPs over the affair, describing parliament as a "good and honest" place.
He also suggested he was open to meeting Miliband over possible changes to the system of overseeing MPs expenses, although he stressed there was a new system in place.
It was also notable that Cameron avoided directly answering questions over whether Miller had quit or he had sacked her, leaving MPs to draw their own conclusions.
There was no clear winner in the clash. Labour has suffered its own problems with lawmakers' expenses, with five MPs jailed for their behaviour. And Cameron clearly hopes this is now the end of the affair.
And with the Commons about to break for Easter, there is certainly time for the heat to go out of the issue.
But the bigger problem is restoring voters' trust in a parliament they think has changed little since the bad days of the expenses scandal of 2009.