Cameron's Judgment Day: Labour Gains in Local Elections Pile Pressure on Coalition Government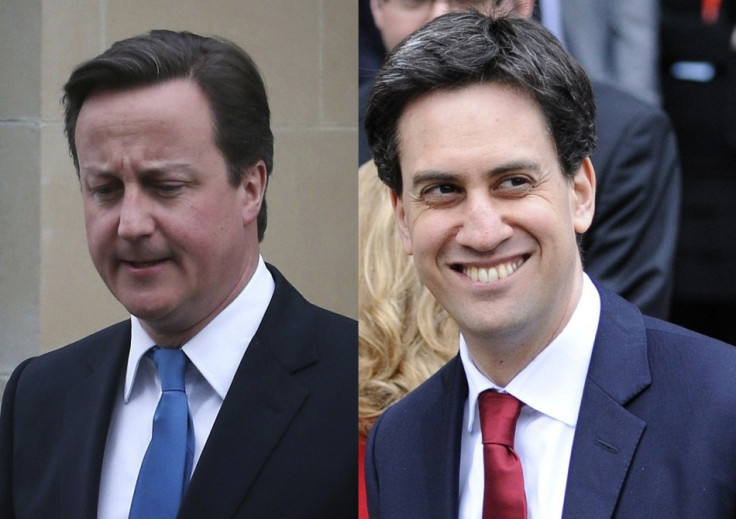 David Cameron and his Conservative-Liberal Democrat coalition government have suffered deep wounds in local elections, as Labour snatches hundreds of council seats from the beleaguered partnership.
It is a damning indictment from the English and Welsh electorate of the coalition's austerity programme, which has seen billions of pounds of public spending slashed as the government attempts to bring down its budget deficit.
Voters are also angry about Britain's weak economy and the news that the country has plunged back into recession, leading them to question if the coalition can turn the country's dismal situation around.
Counting continues as the number of declared results passes the halfway mark.
Cameron's Conservatives have lost hundreds of councillors so far, while Nick Clegg, the leader of the Liberal Democrats, has watched well over a hundred local council seats slip from his grasp in yet another year of terrible local results for his party.
Labour has so far won several hundred councillors, which allowed Ed Miliband's party to gain control of around 20 councils across England and Wales.
Conservatives have lost their grip on several councils so far and look set to lose more, while the Lib Dems have lost one council.
Liberal Democrats are reeling from another set of disastrous local elections, after the party lost several hundred councillors in 2011.
Turnout in local elections looks set to be around 32 percent, its lowest since 2000.
As it stands projections show Labour will end up with 39 percent of the national vote share, an increase of three points.
Tories will drop four points to 31 percent and the Lib Dems share looks set to remain unchanged at 16 percent.
Recent polls have put the Labour party as many as 12 points ahead of the Conservatives in voting intentions.
Birmingham and Southampton go to Labour
Birmingham has been taken by Labour from no overall control, as well as Carlisle, Exeter, Norwich and Derby, among others.
Among the party's steals from the Conservatives are Dudley, Southampton, Great Yarmouth, Harlow, and Plymouth.
The Conservatives managed to grab control of one council from no overall control in Winchester.
Liberal Democrats lost control of Cambridge council, which the party has held since 2000.
Coalition punished by voters
Unemployment is predicted to hit three million out of work by early next year and inflation remains fairly high, though it has fallen in recent months.
Households are suffering as big energy bills eat away at their finances and wages remain stagnant.
The government's welfare bill is also being cut, with snips being made to child and housing benefits, which hit low and middle income families particularly hard.
Chancellor George Osborne's recent budget also proved unpopular, particularly the slashing of the top rate of tax to 45p from 50p in the pound for the highest earners and the so-called "granny tax" on pensioners.
All of these factors appear to have led voters to punish the coalition via the ballot box.
George Galloway's Respect Party haunts Bradford Labour
After unseating Labour's candidate in a March parliamentary by-election in the Bradford West constituency, George Galloway's Respect party has swiped yet more seats from Ed Miliband, this time in the city's local elections.
Respect candidates took three seats from the Labour party on the local council, including that of the council leader, Ian Greenwood.
The Conservatives also lost a seat to Respect.
Because of Labour's losses, the party could not grab control of Bradford council and only hold 45 of the 90 seats.
"We defeated a council leader who sat there, apparently impregnable and utterly complacent, for a decade and a half or more," Galloway told Press Association, adding that Respect offers a "viable alternative to the tweedledee, tweedledum, tweedledee-and-a-half politics that the three mainstream leaderships are offering them".
London mayor and Scottish local elections results to come
There may be some face saved for the Conservatives if their candidate and front-runner in the London mayoral elections, Boris Johnson, beats his Labour rival Ken Livingstone, though results of the election will not be known until 23:00 on 4 May.
Likewise Labour may suffer a setback if it loses heavily in the Scotland's local elections to the Scottish National Party, which would be a serious dent to one of its core areas of support.
The SNP has already grabbed control of the Scottish parliament from the Labour party and may well cause Ed Miliband an upset when results in the local elections start to come through at around 13:00.
Labour Party 'not complacent'
Emily Thornberry, the shadow attorney general, insisted that despite the positive results for Labour, the party is not being complacent.
"We need to work more, but we are going in the right direction and we are very cheerful tonight," Thornberry told BBC News.
"It is encouraging the way in which we are regaining the trust of the public."
The government's immigration minister Damian Green dismissed Labour's results as "good but not spectacularly good".
© Copyright IBTimes 2023. All rights reserved.