David Cameron to Attract Gulf Investment to UK's Energy Sector
Human rights abuse allegations shadow over talks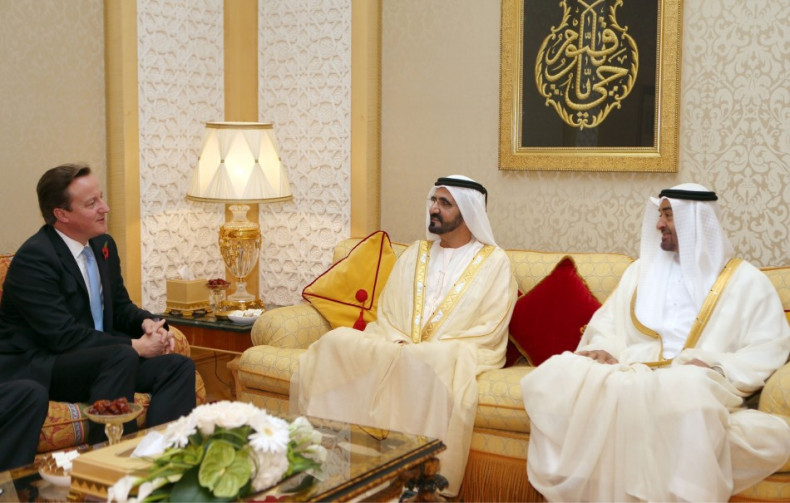 David Cameron, who is on a tour of the Middle East, is due to meet top three investment firms in the UAE which are likely to invest in the UK's energy sector. Cameron is expected to make efforts to attract sovereign wealth funds to the British energy sector.
Areas of possible investment include energy technologies, oil and renewable and nuclear energy.
"Emirati investment in the UK across a range of sectors - including real estate, banking, sport and infrastructure - is vital to our economy back in Britain. So we will continue to do all we can to make the UK an attractive and accessible investment destination," Cameron told the Emirati daily, the National, before the meeting.
Trade and investment ties top the prime minister's agenda but the major focus will be on Cameron's bid to sell 100 Typhoon fighter jets to Dubai and Saudi Arabia. The deal, worth billions of pounds, faces stiff competition from France and the US.
Cameron has also vowed to raise human rights violation allegations in the Gulf countries.
Soon after talks in the UAE, Cameron will go to Saudi Arabia where he faces the challenge of bringing back the UK-Saudi relationship on track.
Saudi Arabia had said they were "insulted" by the launch of a parliamentary inquiry into the relationship between Britain and the Saudi Kingdom.
Downing Street says the prime minister's visit to the Kingdom is aimed at "reinvigorating partnership".
Allegations of human rights have the potential to cast a shadow over the talks despite Cameron calling the arms deal with Saudi Arabia as "legitimate."
"On human rights, there are no no-go areas in this relationship. We discuss all of these things but we also show respect and friendship to a very old ally and partner. We have one of the strictest regimes anywhere in the world for sales of defence equipment but we do believe that countries have a right to self-defence and we do believe that Britain has important defence industries that employ over 300,000 people so that sort of business is completely legitimate and right," Cameron said soon after his arrival in Dubai.
This is Cameron's second visit as prime minister to the region after his first trip to the UAE in 2010 and Saudi Arabia in January 2012.