Campus Party Europe came to the O2 Arena in London this week, with 10,000 attendees enjoying 500 hours of lectures and workshops, competitions and hackathons. Technology reporter Alistair Charlton went to investigate.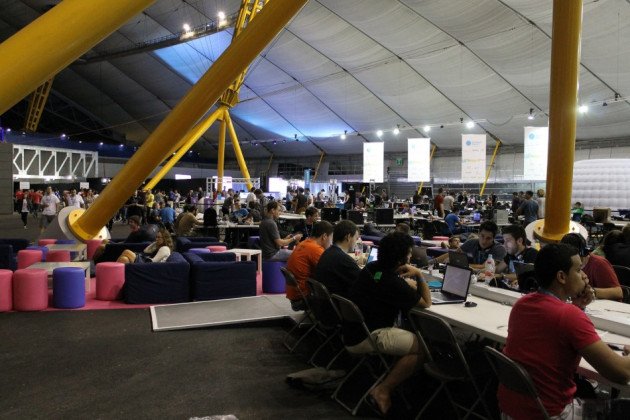 Cult probably isn't the right word, but after a few day's thought that's the best I can come up with; Campus Party Europe is something of a cult. That's not a bad thing, however, as after spending a day there I found an eclectic group of technology lovers of all ages and nationalities, brought together by a shared passion for all things tech.
When a week-long conference lists as its highlights an indoor campsite and 72-hour hackathons - where competitors work day and night to create new websites and applications - you can hardly be blamed for thinking of stereotypical computer geeks with pizza on their t-shirts and an allergy to sunlight, but this couldn't be further from the truth.
Yes, some attendees - or Capuseros as they are affectionately known - were asleep on sofas during my visit, having coded the previous night away, but the majority are there to learn from the 500 hours of lectures and workshops taking place throughout the week. Everyone I spoke to was excited to meet like-minded individuals in an environment where computer code and amateur robotics mixed with beatboxing and business.
The week began with an opening ceremony held on the main stage of the O2 Arena. Hosted by Formula One presenter Suzi Perry, the evening featured appearances from communications minister Ed Vaizey, the EU's top telecoms commissioner Neelie Kroes and Campus Party founder Paco Ragageles, along with a performance from award-winning beatboxer Beardyman, who described the audience as the most intelligent he'd ever performed to - and this is a man who has spoken at a TED conference.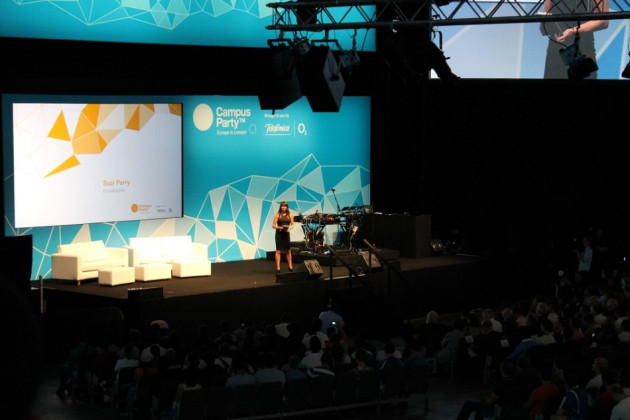 From Tuesday onwards the O2 held hundreds of hours of lectures, workshops and competitions spread across eight stages, three classrooms and a main hall equipped with hundreds of desks for attendees to work at.
I met a mix of people, from German robotics experts to Spanish hackathon enthusiasts, all basking in the comfort of knowing that all 10,000 Campuseros attending during the week had much in common.
Technology unplugged
This got me thinking. The IFA technology trade show was also held this week, in Berlin, complete with unnecessarily gigantic press conferences, thousands of TV screens, glitz, glamour, booth babes and, as these events usually have, an overwhelming sense of trying too hard.
Campus Party is what I imagine IFA would be like if all that was stripped away, leaving just the paying attendees and new gadgets for them to chat about and tinker with.
Everywhere you turn, technology is being crammed down your throat; from double page spread Apple adverts showing 'emotions' instead of products, to meaningless celebrity endorsements - it's therefore reassuring to know that behind all the pretence there is a place genuine technology fans can go to meet one another, learn, teach, work and just be themselves, a bit like how amateur hobbyists developed the first personal computers all those years ago.
I've probably read too much into this and it may well have been a bunch of geeks slaving over hot keyboards for days on end, but I'd like to think it was more than that.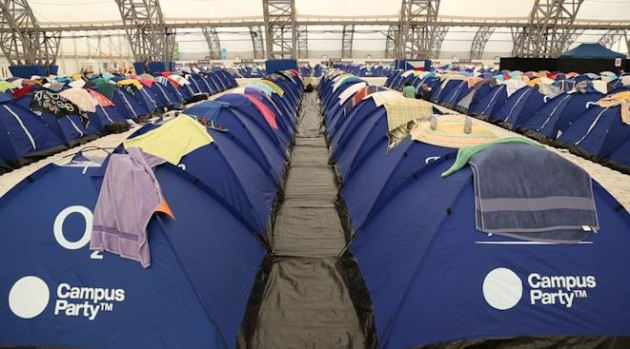 Glastonbury for geeks
London mayor Boris Johnson called Campus Party the Glastonbury for Geeks, and while the lack of music makes his comparison tedious at best, he does have a point. It's a place like-minded people can go to get away from it all and indulge their passion, with friends and strangers alike.
It's easy to say we all love technology when really we're just addicted to Instagramming our food. What it takes is a trip to somewhere like Campus Party - and a chat with two guys who spent 28 hours on a bus to get there - to see what a real love for technology is, and what it can bring out in people.
Many attendees came to London to show off their latest creations or a business idea to like-minded individuals, and with stands representing Tech City and the Level 39 startup accelerator on the show floor, advice on how to turn these ideas into reality was readily available.
Campus Party isn't Glastonbury for geeks, but it is technology unplugged. Forget blaring press conferences and adverts telling us all how revolutionary a new product is. Scrape away at all this and we find that where consumer technology began - geeks sharing ideas and working together through the night - is alive and well; marry that to a thriving startup culture sweeping Europe, and any one of those Campuseros could come up with the next big thing.