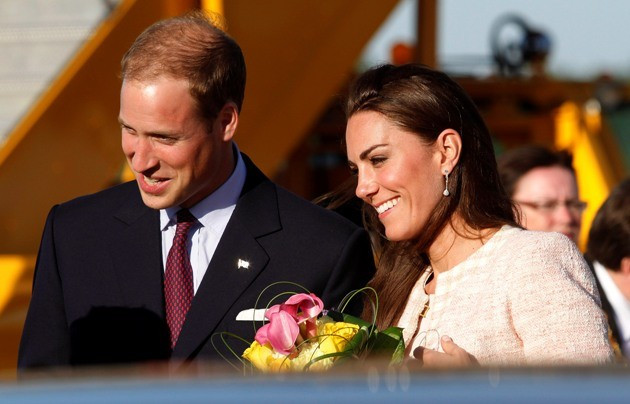 The Duchess of Cambridge has announced that she wants to start a family as protests over the royal tour intensify. It was always expected that Quebec would be the scene of mass protests but the scale and intensity of the marches against the young member's British monarchy have taken some by surprise. The protests have been directed at the cost of the trip which is expected to rise above £1m excluding security costs.
It is the first time the couple have spoken publically about having children, although Prince William said when the couple got engaged that they would like to start a family. The news of Kate Middleton's desire to start a family came when she met a 'beautiful' little girl on a walk around trip of Quebec. Kate had been given a bouquet by Raffaela, two-year-old daughter of British expat David Cheater, 28, during a walkabout in Quebec City. When Mr Cheater wished the duchess well in her efforts to start a family, she thanked him, saying 'Yes, I hope to'.
However, there have been mass protests over their visit with anti-monarchist demonstrations greeting Prince William and Kate Middleton in Quebec. Prince William has become the first member of the royal family to visit Quebec City in nearly 50 years. The Queen last visited the city in 1964 amid a huge anti-monarchist protest where people turned their back on the Queen. Two years ago, eggs were hurled at Prince Charles and the Duchess of Cornwall on a visit to Montreal whilst others scuffled with police.
The protest will be seen as a challenge to both the Duke and Duchess of Cambridge on their first overseas engagement as a married couple. All in all there has been a positive reaction to the couple's visits with large and enthusiastic crowds greeting the couple and benign media coverage. However, the protest in Quebec, though expected, will cause the couple great angst as they try to rebrand the monarchy on their first visit to Canada.
The Quebec Resistance Network has called on protestors to target the 'yoke' of the British monarchy 'for democracy dignity and independence.' The protests have been aimed at the cost of the trip, with that figure standing at well over £1m, excluding security, and are expected to rise. Opinion polls show that majority of French Canadian's are excited by the royal couples' trip but it hasn't stopped protestor's marching on the streets.
The group chanted, "A united people will never be vanquished," as they waited for Prince William outside Sainte-Justine University Hospital Centre in Montreal. They also carried signs saying: "Parasites go home," and "Your fortune came from the blood of our ancestors."
Separatism, along with republicanism, is seen as a distraction by many Canadians, and senior figures in both movements have called for any demonstrations to be civilised and responsible.