Cannock Chase: Quadcopter drone captures video footage of infamous black-eyed child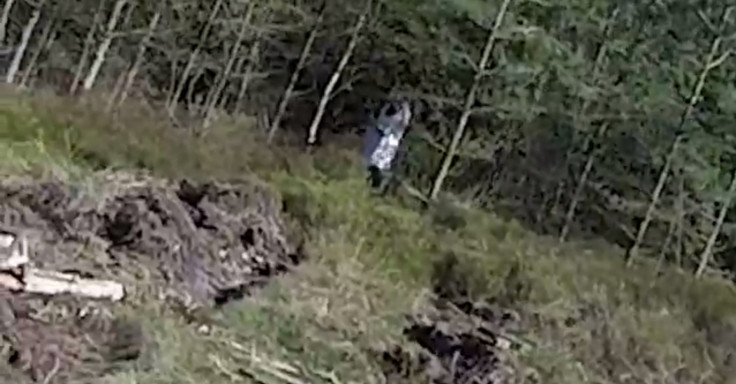 Drone operators flying an unmanned aerial vehicle (UAV) over countryside in Staffordshire have captured a mysterious figure in white standing in broad daylight that they think might be the infamous ghost of the black-eyed child.
YouTube user Furious Otter uploaded a video on 18 April showing video footage captured from a quadcopter drone. The 59-second-long video shows the Cannock Chase forest landscape on a bright sunny day and a figure in white is seen from the aerial view.
The operators write in text displayed in the video that they noticed something strange on the live streaming video feed coming from the helicopter drone and decided to fly lower to investigate.
Flying at a very low height below the tops of the trees on the edge of the forest, the drone then captures a mysterious figure in white with long dark hair standing just within the shadow of the trees, so it is not possible to make out her face. But the folds of her dress can clearly be seen and the figure appears to use her left hand to sweep hair out of her face.
The user wrote in the video description on YouTube: "Is this the famous black-eyed girl spotted at Cannock Chase. After uploading this footage we were contacted by a number of paranormal investigators pointing out that this could be the black eyed girl - crazy!"
Paranormal investigators and Staffordshire natives claim Cannock Chase is one of the most haunted forests in the UK.
There is an urban legend existing since the 1990s that says ghost children with eye sockets that are pure black and no irises allegedly roam the countryside either hitchhiking or panhandling. Sighted in the US and UK, they can also turn up on the doorsteps of residential houses, according to the legend.
In late September 2014, the Daily Star published a series of articles about black-eyed ghost children, claiming the phenomena had started up again after 30 years and residents living near to Cannock Chase were moving homes to avoid seeing the ghost of a little girl.
Could this be an elaborate prank set up with the help of a young girl wearing a white night gown, or has the drone truly captured a ghost?
© Copyright IBTimes 2023. All rights reserved.