A family browsing photos taken on a trip to York Castle Museum in 2012 have spotted what appears to be the ghost of a little girl in a Victorian-era dress in several of the pictures.
John Burnside, 27, and Shona Backhouse, 25, from Wakefield in West Yorkshire, took their 18-month-old son Jonthomas to the museum two years ago for a family day out, and the couple had a "funny feeling" they were being followed around the museum.
They had taken photos on a mobile phone camera but had not seen the pictures until recently, when the phone's microSD card turned up in Burnside's pyjama pocket.
When the couple looked through the photographs, which are grainy and low-resolution, they realised that a small figure of a child wearing a Victorian dress is present in three of the photographs.
"It was weird. I didn't notice anything at first, then I thought I was imagining it. So I asked Shona and she said, 'Yes. It's a little girl,'" Burnside told the York Press.
"When I phoned my mum she at first thought it might be a little girl that my sister lost, but my dad spotted that the girl in the picture was in Victorian dress. I don't like the idea of ghosts or anything like that. It gives me panic attacks."
Blackhouse said that she felt uncomfortable in the museum and didn't want to enter one of the rooms as it gave her "goose pimples and shivers".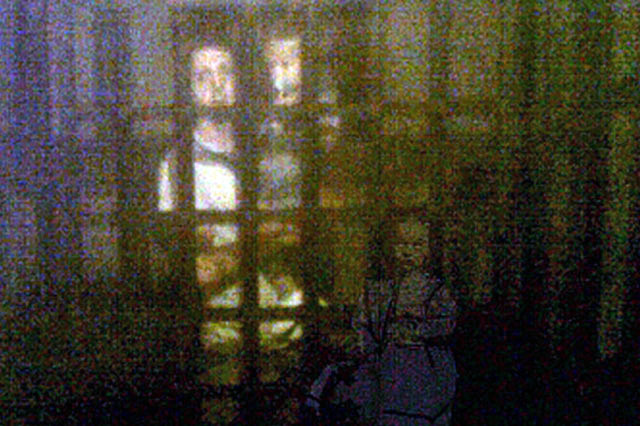 UK's most haunted museum
York Castle Museum is believed by some to be the most haunted museum in the country, housing condemned thieves and murderers. In 1739, infamous highwayman Dick Turpin spent his last night in there before he was executed in York.
Staff working at the museum have reported hearing chains rattling, scratching noises from the cells, ghostly voices and once a ghostly dog in one of the galleries. Visitors have also reported hearing a woman singing and seeing an old lady dressed in black sitting by a fireplace.
York Castle Museum is built on the site of the original York Castle, known as Clifford's Tower, which was built by William the Conqueror in 1068 but had fallen into disrepair by the 16<sup>th century.
Parts of the castle were restored and in the 18<sup>th century, the castle bailey was redeveloped into a neoclassical building to house the administration for the county of Yorkshire, a jail, the female prison and the debtors' prison.
Today, the buildings that are still standing house the Yorkshire Crown Court as well as the museum.