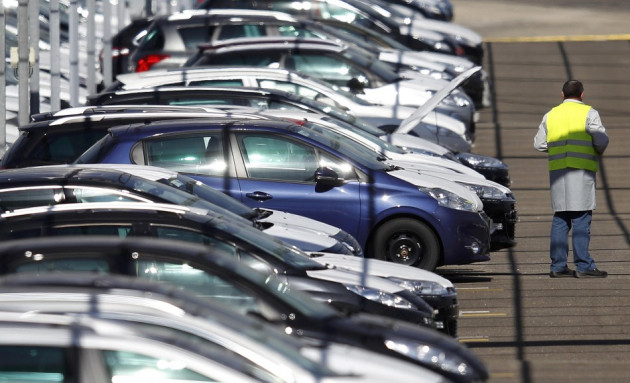 Car sales in Europe plummeted to an 18-year low in August, their lowest level since 1994, with no sign of an immediate revival as the recession continues to spread gloom across European markets.
The crisis has forced major auto makers to lay off workers and shut down production lines in order to stay afloat.
Compounding the woes of European car companies is the price war with low-cost imports from India, South Korea and Thailand.
In major European markets such as France, Germany and Italy, new car registrations touched new lows in August.
Sales were almost flat, with 0.1 percent growth in the UK translating to 59,433 new passenger car registrations in August, according to data released by the Society of Motor Manufacturers and Traders (SMMT).
The data showed a decline of 4.7 percent in the sale of cars for business purposes while private car sales rose 12.2 percent.
The SMMT pointed out that August sales are traditionally flat in the UK.
August accounted for just 3.1 percent of the total 2012 volume, out of the projected 1.97 million units for the full year.
Germany, Europe's biggest car market, shrank by 4.7 percent in August, with Germans buying 10,645 fewer cars than in the same period a year ago, noted the Association of International Motor Vehicle Manufacturers (VDIK).
Car sales in France recorded a sharp decline for a tenth consecutive month, with sales registering an 11.4 percent drop to 96,115 units in August, according to data released by the French industry association.
Reflecting trends elsewhere in Europe, Italian car sales were down 20 percent.
The only exception was Spain, where new car sales rose by 3.4 percent mainly due to an anticipated sales tax rise in September. It was the first increase in seven months, with an estimated 10,000 buyers bringing forward planned purchases to beat the tax change, according to the Spanish ANFAC automakers' association.
Spanish dealers' association Faconauto told Reuters that sales will drop sharply in the coming months, as the new sales tax kicks in.
Best-Selling Brands Suffer
Among the brands, Ford witnessed a 17 percent drop in sales in France and 22 percent in Spain. With sales falling month after month, the company forecast a full-year loss of $1bn in its European operations.
Rallying support for his company's plans to navigate the bad times in Europe, Ford Chief Executive Alan Mulally invited 2,500 dealers to a preview of its new models in Amsterdam, and said it plans to sell one million SUVs across Europe in the next six years.
"Over the past five years, the SUV segments are the only ones to have grown in Europe and it is forecast to continue," said Ford's global marketing chief Jim Farley.
The company plans to introduce a Kuga crossover and an Ecosport compact SUV in European markets.
Seeking support for his plan for investment in Europe, very similar to the one implemented in the US some time ago, Mulally told his dealers: "The most important thing we can do is acknowledge the current reality and develop a plan to deal with it."
Ford has also unveiled plans to export engines from its Indian plant to combat the rising cost of local manufacturing, and thereby offset losses.
Ford sales in Europe slumped nearly 12 percent in the year to August, in a market which is down around 7 percent overall due to the worsening economic crisis.
In France, new car registrations by market leader Renault fell 30 percent in August, with the exception of its low-cost Dacia, which recorded a 21 percent rise. Head of the French auto industry think tank Cetelem, Flavien Neuvy, told Reuters that there is no sign of recovery on the horizon.
With an 11 percent drop in domestic sales in August, France's PSA Peugeot Citroen, the second largest car maker in Europe, is likely to press ahead with plans to shed 8,000 jobs, despite calls from French President Francois Hollande for a rethink.
Adding to its woes, France's CAC 40 benchmark index dropped PSA Peugeot Citroen from its CAC 40 blue chip index. The company was a founding member of the index 25 years ago.
The company's share price has taken a beating during this recession, and it has been replaced by Belgian chemicals group Solvay on the CAC 40.
The only possible silver lining is growth in the small car market, as more customers choose smaller vehicles to save money and cut fuel costs.
Yet Asian companies are emerging as winners in this segment, leaving their western counterparts behind. The South Korean Kia and Hyundai have already established their presence in Europe, with Hyundai's market share touching 5.9 percent in August, against 1.2 percent recorded in the same month in 2011.