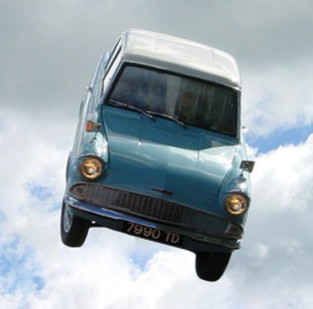 Moulton Taylor's iconic flying car is up for sale. According to the Mail Online, the 21ft long Aerocar has been valued at £600,000.
The Aerocar, developed in 1949, was designed to both fly and be driven on roads. It is powered by a Lycoming 0-320 four-cylinder engine fixed over the rear wheels. The unit produces 150hp and has a cruising speed of 100mph, with a top speed only marginally higher. It can carry a maximum weight of 2,100lbs, of which 800lbs is the payload and can reach an impressive 12,000ft service ceiling. And with a 24 gallon tank, the Aerocar has a range of 300 miles.
Taylor's creation first took birth in 1946, after he met Robert Fulton and was inspired by his version of the flying car. The new and improved flying car featured foldable wings, which allowed for the conversion from a plane to a road-going vehicle manoeuvrable as such. When fully assembled, the wings have a 30ft span.
"This was the peak of 20th century design at the time and was close to taking the world's imagination by storm. There really was nothing like it around at the time and the design attracted so much attention - it was such an incredibly advanced piece of kit," Greg Herrick, an aviation enthusiast, explained.
Taylor was reportedly in talks with Ford to go into mass production, with the visionary inventor spending most of the 50s and 60s trying to drum up funds and develop a market. However, after 25 years, he was forced to admit defeat.
"The oil crash in the 1970s and a lack of businesses willing to invest eventually led to all interest fizzling away - to this day there is still nothing like it," Herrick concluded.
Today, only four of the five original Aerocars survive. One is owned by the Smithsonian, a second is the Experimental Aircraft Association (EAA) museum and two are with private collectors, of which this is one.