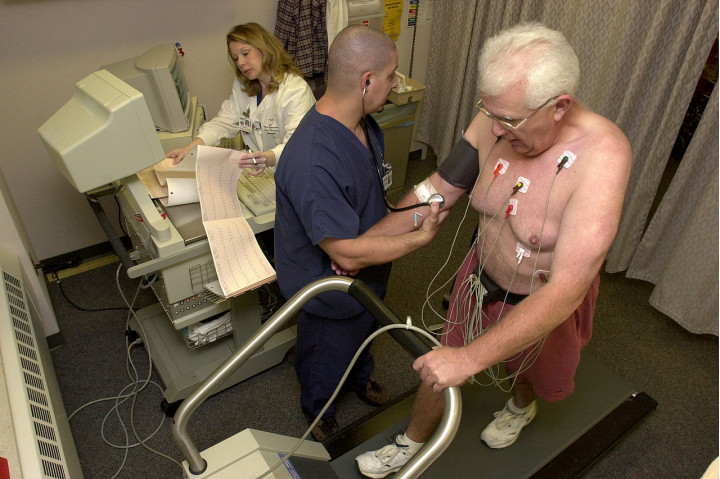 Around one million inappropriate cardiac stress tests with radiological imaging are costing up to half a billion dollars in healthcare costs annually in the US, scientists have warned.
The testing can lead to about 500 people per year developing cancer in their lifetime because of the radiation they receive during the procedure.
Researchers at New York University's Langone Medical Center estimated the cost of unnecessary cardiac stress testing in what is believed to be the first comprehensive examination of trends in the procedure using imaging.
For the study, the researchers used data from the National Hospital Ambulatory Medical Care Survey and the National Ambulatory Medical Care Survey, from 1993 to 2010. Patients chosen for the study were adults without coronary heart disease who referred for cardiac stress tests.
Between 1993 to 1995 and 2008 to 2010, the annual number of ambulatory visits in the US in which a cardiac stress test was ordered or performed increased by more than 50%.
Cardiac stress tests with imaging comprised a growing portion of all of these tests, increasing from 59% in 1993 to 1995, to 87% in 2008 to 2010.
At least 34.6% - amounting to one million tests - were probably inappropriate, the researchers concluded, with associated annual costs and harms of $501m (£312m) and 491 future cases of cancer.
The investigators concluded that the national growth in cardiac stress testing can be attributed largely to population and provider characteristics, but the use of imaging cannot.
"Cardiac stress testing is an important clinical tool," says Dr Joseph Ladapo, lead author of the study, "but we are over using imaging for reasons unrelated to clinical need. This is causing preventable harm and increasing healthcare costs."
"Reducing unnecessary testing also will concomitantly reduce the incidence of radiation related cancer," he added.
"We estimate that about 500 people get cancer each year in the US from radiation received during a cardiac stress test when, in fact, they most probably didn't need any radiological imaging in the first place. While this number might seem relatively small, we must remember that 'first, do no harm' is one of the guiding principles in medicine."
According to Ladapo, proved clinical decision support can help reduce the number of unnecessary stress tests. He also advocated greater use of stress testing without radiological imaging, such as exercise treadmill tests or testing using ultrasound imaging as opposed to CT imaging.
The research was published in Annals of Internal Medicine.