Carl Jenkinson was delighted to return to the Arsenal first-team during their 2-0 win over Reading in the fourth round of the EFL Cup. The defender made his first appearance for the club in 898 days, which also include two seasons on loan with West Ham United.
The England international spent the last two seasons on loan with the Hammers, but has been sidelined for the last nine months with a knee injury. Jenkinson played for the Arsenal U23 side earlier in the month and made his first-team comeback against the Royals on Tuesday (25 October).
The 24-year-old played the full 90 minutes and Arsene Wenger confirmed that he came through the game without any fitness troubles apart from a bit of fatigue at the end. The French manager will be delighted with the right-back's return, as he can now afford to rest first choice Hector Bellerin, who had played every game thus far this campaign apart from the third round clash against Nottingham Forest.
"It felt brilliant. It's been a long time coming. Of course, I was on loan for a couple of years and that was really good for me. But coming back and having nine months out injured has been very tough. So days and nights like tonight make it all worthwhile," Jenkinson told Arsenal's official site after the Gunners' win over Reading.
"It was tough. They were a decent team but I think over the 90 minutes we were the better team for sure. We played some really nice stuff at times but they came here and they had a really good go, to be fair to them," he added.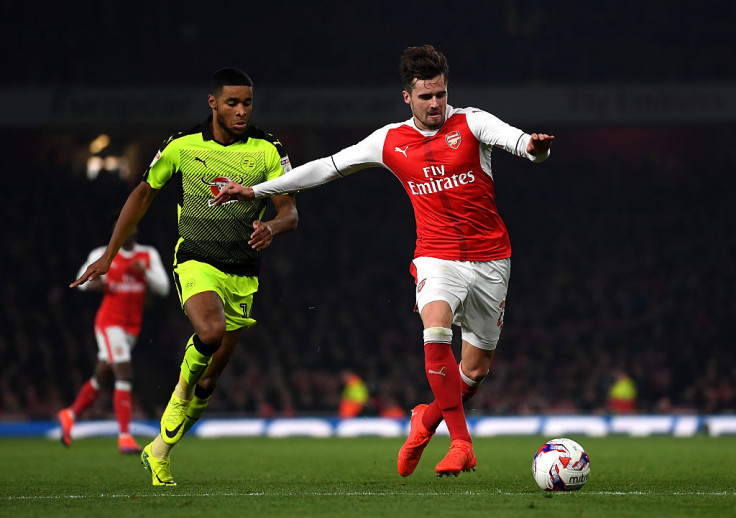 "It's fantastic to see him back. I don't count him as a young player but he did well, he played 90 minutes and had no fitness problems at all. That means he's prepared well physically. He's played with the under-23s and we have had no problems with him physically at all," Wenger said of Jenkinson's return in the EFL Cup.