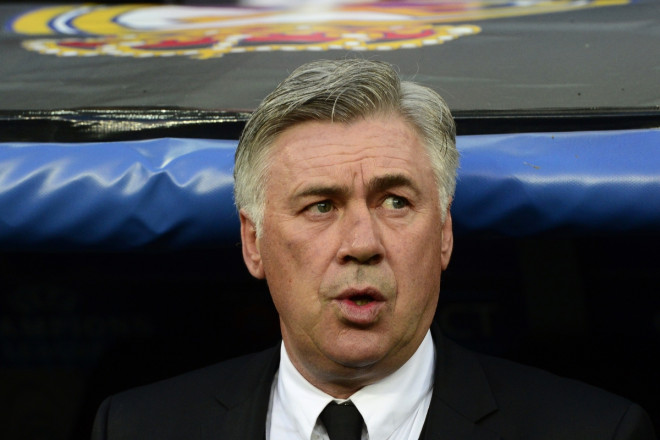 Manchester United have suffered a further setback in their attempts to find David Moyes' successor after Real Madrid manager Carlo Ancelotti dismissed the possibility of leaving the Bernabeu.
The former AC Milan, Paris Saint Germain and Chelsea boss emerged as a candidate for the role in recent days although Holland manager Louis van Gaal remains the bookmakers' favourite to succeed the Scot.
However Ancelotti has indicated he has little desire to leave the Spanish capital, becoming the latest manager to rule himself out of a move to Old Trafford.
"This happens every year and I always say the same thing. I'm lucky to coach the best team in the world," Ancelotti said.
"I respect Manchester United a lot. I was disappointed for what happened to David Moyes, but my place at the moment is here."
Ancelotti's comments further shorten United's list of candidates to replace Moyes. Jurgen Klopp was immediately considered the favourite for the role but within hours of United's decision to part ways with the former Everton manager the Borussia Dortmund boss reaffirmed his desire to remain at the Westfalenstadion.
Speaking to the German press on Thursday, Klopp revealed his admiration for United, but insisted the only way he would leave Dortmund is if the club decide he is no longer the right man for the job, adding there had not been any offer from Manchester in the first place.
"I really do think that Manchester United is a great club, but it is also the case that as long as things continue to go as they are here, then I have a clear agreement with Borussia Dortmund," Klopp said.
"Therefore it cannot have anything to do with the greatness of a team, even if there were to be an offer. And to react to this is a bit uncomfortable when there has not been an offer, so to reject it before an offer comes is personally embarrassing for me."
Bayern Munich manager Pep Guardiola also wasted little time in distancing himself from the United job, insisting he has every intention of honouring his contract at the Allianz Arena which runs until 2016.