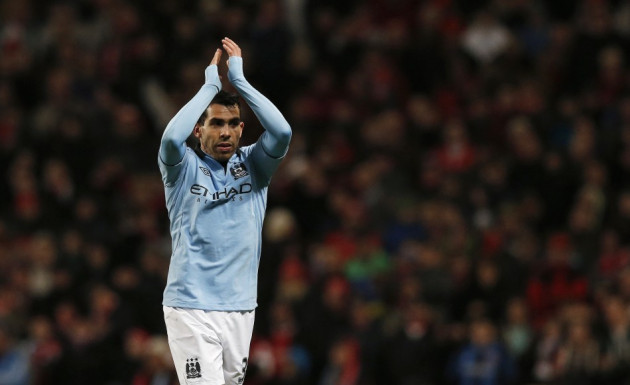 When the burly Argentine was paraded around Upton Park alongside Javier Mascherano for the first time in the summer of 2006, you could hardly be blamed for rubbing your eyes in disbelief.
Seven years on from his bizarre arrival in English football Carlos Tevez is now set to take Turin as Juventus' new illustrious number 10, but the question of how the forward will be remembered for his time in England is likely to garner a broad range of responses, some probably too explicit for this particular page.
Arriving with a burgeoning reputation of another Argentine who spent his teenage years vying for the title of the new Maradona, the forward continued to hone his own image in England.
After carving his name in West Ham United folklore, Tevez enjoyed an exquisite first campaign with Manchester United, lifting the Premier League and Champions League double where his partnership with Wayne Rooney defied many observations that the two could not play alongside each other.
After that, things turned sour. Tevez acrimoniously left United in the summer of 2009 when his puzzling loan deal expired and became the latest member of a small fraternity of players to cross the Manchester divide without any stop off points. The move was quickly illustrated by City's memorable "Welcome to Manchester" billboard adorning the forward's bewildering grin, the first of many efforts by the club to wind up their riled neighbours.
It was during his four year spell with City that Tevez managed to enrage, inspire, perplex and astound in equal measures under circumstances that go some way in deviating from what you would expect from you average modern footballer.
The fact that his tenure with the club coincides with their most successful period in half a decade speaks volumes, in despite of City's frequent assaults on the transfer market. Tevez was already a firm crowd favourite for spiting United and Sir Alex Ferguson and he further endeared himself with performances that propelled City from top four wannabes to FA Cup winners and competing in the Champions League within his first two years at the club.
His tireless work rate and commendable desire to win on the pitch constantly won him his rightful plaudits, but rarely has the line between model professional and insubordinate brat been so fine in the Premier League than with the man from Buenos Aires.
The forward's unforgettable mutiny on the bench of the Allianz Arena in September 2011 produced enough vitriol from pundits and football fans to have the Premier League's purists reaching for their pitchforks and torches.
The idea of a player refusing to adhere to his manager's orders during a high profile Champions League game was an alien concept, one that we all expected to be met with a serious reprimand, if not a transfer out of the club; an idea floated by Mancini in the heat of the moment when he declared he did not want the fiery Argentine to play for the club again.
After a two week suspension and an investigation into the incident, Tevez was placed on gardening leave, reportedly practising his drive on the gold courses of Buenos Aires while his teammates duelled with United. While ostracised, he reportedly lost out on close to £10m in unpaid wages, fines, missed bonuses and so on, and it appeared his days as a Manchester resident were numbered.
In typically enigmatic style, he found himself back in the startling line up during the final two months of the season. Had Mancini been undermined? Was it further proof that Tevez could continue to get away with what he liked at the Etihad Stadium? No one was too concerned at just after quarter to five on May 13th when the club snatched the Premier League title in a blaze of last minute glory.
A season on, both Tevez and Mancini have moved on. Whether that incident on that rainy night in Munich proved to be a delayed catalyst for his move away from Manchester is open to interpretation. But whatever adventures he gets up to in Italy, the Argentine is likely to remain equally revered and reviled for his remarkable run on these shores.