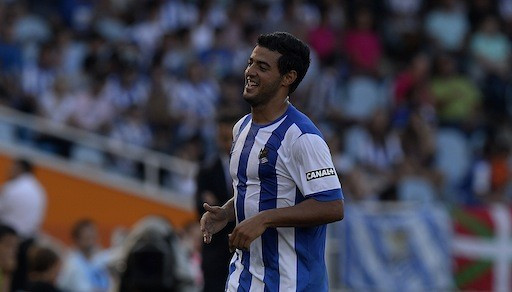 Real Sociedad striker Carlos Vela has revealed that he may return to Arsenal with the Gunners having installed a buy-back clause in his contract.
The Mexican has a release clause of £25m with Sociedad but the Gunners can have him back for £3.3m, less than £1m of the price they got to sell him to the La Liga club in the first place.
The striker has been in brilliant form over the course of his stay in Spain, scoring 45 goals in 120 appearances and has established a good partnership with winger Antoine Griezmann, who has also been linked with a move to the Emirates.
The Gunners are in the market for a striker to replace Nicklas Bendtner who is out of contract at the end of the season. Arsenal are also looking to bring in another striker to join Olivier Giroud in attack, with the Frenchman failing to live up to expectations this season.
Vela will give Wenger a different option up front with his pace to get behind defenders, something which Giroud has not been able to do on a consistent basis this season.
"One possibility is my clause of €30million (£24.6m), but there's other options and we're looking at that, to see what we can and can't do," Vela told Radio Marca.
"Arsenal can come back for me at €4million (£3.3m) at any time, which is €1million more than Real Sociedad paid. I look at things differently these days and I won't close the door on Arsenal, or any team in England. I think I'm better prepared to play in another country now.
"I've always said that I'm very happy and settled here, but we'll have to see if there's an agreement reached or not.
"I've good things there and here too. I'm in a place where I'm happy and at the moment, don't have any intentions of moving on, but if the time comes to leave, I think I'm prepared to try other things.
"I've matured, I've changed my way of thinking and I've not closed my mind to anything," he concluded.