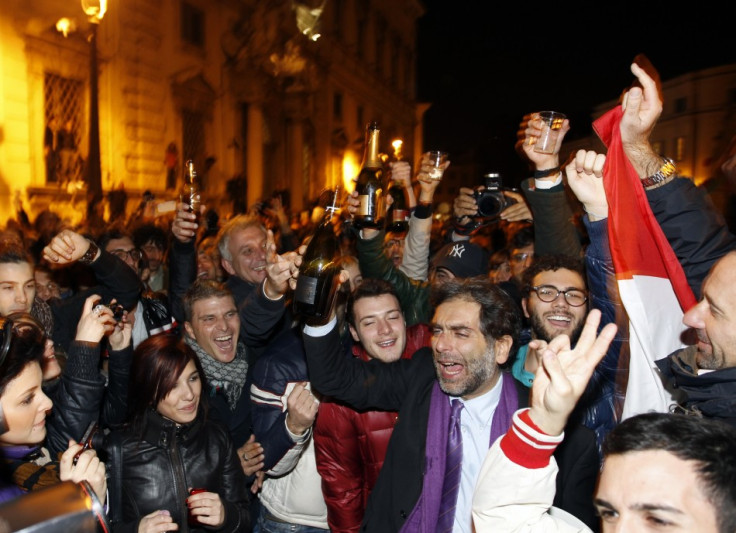 Silvio Berlusconi has resigned as prime minister of Italy, ending 17 years of scandal-plagued rule. The streets of Rome burst into celebrations and people were seen rejoicing at the news outside the Quirinale Palace. Some of the placards held by them read: "Berlusconi Game Over."
Berlusconi was forced to go as he failed to secure a majority vote in parliament in a crucial budget discussion. He promised to resign once parliament passed a series of austerity measures to help the country come out of its present financial crisis as sought by the European partners.
The austerity measures, approved by parliament, include selling state assets and increasing the retirement age to 67 from 65 by 2026. It also decreases the power of professional guilds, privatise municipal services and offer tax breaks to companies that hire young workers.
Berlusconi is to be replaced by Mario Monti, a former European Commission member. President Giorgio Napolitano is expected to begin the consultation for the forming of the new government of Monti as early as Sunday. The new cabinet is supposed to be sworn in by Sunday night.
The news of the resignation was welcomed by the opposition and the general public leading to mass celebrations in the streets of Rome. The resignation has put an end to a week-long political stalemate in the country.
Italy is the third largest economy in the eurozone region and it financial stability came closer to a disaster this week when yields on 10-year bonds rose over 7.6 percent, spiraling out chances of a bail out. But the decision of Berlusconi to resign and the passage of austerity measures by the parliament are widely seen as right directions to stall the economic disaster which the country is facing today.
Berlusconi is the longest serving prime minister of Italy. From the beginning as an entrepreneur, Berlusconi raised to the corridors of power and to the top political leadership. But his tenure was unmatchable with allegations of financial irregularities and under age sex scandals.
International leaders are hoping for a new leadership that can pull out the country out of its present economic chaos.