Corning is likely to debut an improved version of its toughened glass - the Gorilla Glass 3 - at the 2013 Consumer Electronic Show (CES) in Las Vegas next week.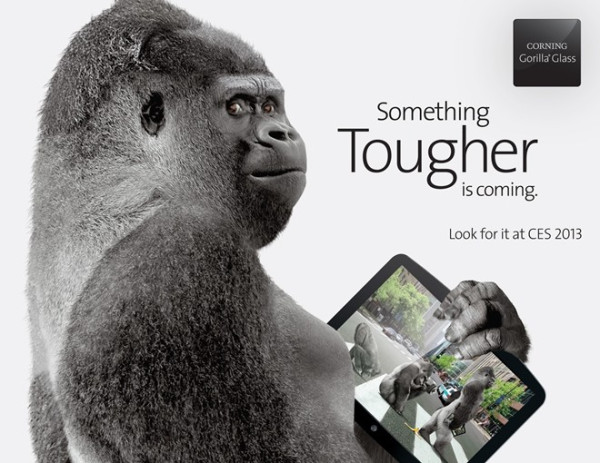 Follow all the news, reviews and rumours on our CES 2013: Live Blog
The company claims the new glass offers a 40 percent reduction in the number of visible scratches and 50 percent strength retention, even on a superficially damaged display. The company unveiled Gorilla Glass 2 at the 2012 CES event.
As David Velasquez, Gorilla Glass' director explained to CNET, the study of glass' atomic structure and bonding properties has enabled Corning's team to create an improved version of Gorilla Glass 2, which means the glass is less brittle and not as prone to scratching.
This special property has been termed "Native Damage Resistance", which the creators claim provides protection for up to three times the force generated using the tip of a key or a rock on the ground.
Corning started life as a cook and glassware firm. A report by NPR says the 160-year-old manufacturer "sold off the Corelle line along with Pyrex and its other kitchen products in the 1990s". However, the company is now a major player in the electronics display industry with Gorilla Glass, sales of which are expected to touch $1bn this year.
The use of the Gorilla Glass has spread to more than 975 different gadgets, including, smartphones, tablets and television sets.
"This year at CES, Corning will demonstrate its industry leadership in specialty glass and fiber optic technologies with the introduction of two products designed to enhance and extend the capabilities of consumers' favorite devices," Wendell P Weeks, Corning's chairman, chief executive officer and president, was quoted in a press release.
"These new innovations build on the increasingly important and continually evolving role of highly engineered glass technologies in delivering improved product performance and functionality through touch capabilities, protective cover glass, and device connectivity," his statement continued.
The official press release further suggests experts will conduct hourly exhibits and hands-on demos to emphasise the toughness of Gorilla Glass 3, as well as illustrating the connectivity and flexibility of Optical Cables. The booth will also demonstrate benefits of Corning Gorilla Glass in larger formats, such as multi-touch displays for education and entertainment purposes and other applications.
Velasquez admits there will be no products featuring Gorilla Glass 3 at the show; these are not expected for at least two more months. Nevertheless, stringent tests are reportedly being conducted by device manufacturers (Corning's clients) such as Asus and Samsung in their labs for monitoring glass quality.