The Pebble smartwatch, which caused a stir after raising more than $10m (£6.2m) on KickStarter, is in production and will start shipping to early investors on 23 January.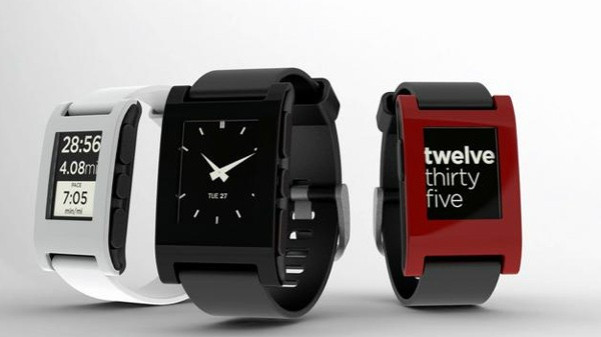 Follow all the latest news live from Las Vegas right here on our CES 2013: Live Blog
Pebble CEO Eric Migicovsky said in a press conference held at CES in Las Vegas that the watch, which connects to your Android or iOS smartphone over Bluetooth, is currently in production at a rate of 15,000 watches per week at a factory in China.
The company has taken 85,000 orders from those who invested on KickStarter, and customers who have placed pre-orders through Pebble's website.
Featuring a 1.2in black-and-white e-paper display with a resolution of 144 x 168 pixels, the Pebble watch connects to your phone over Bluetooth and can alert you to notifications like incoming calls, texts, emails and Facebook messages, as well as control music playback and, of course, tell the time.
Notifications and calls show up on the screen, and the watch vibrates to make you aware of them.
The only drawback, obviously, is that there is no keyboard, so while you can read emails and text messages, replying to them is not possible directly from the watch - in that sense, it's more like a pager for the 21st century, the conversation is one-way until you dig out your phone.
Despite packing more features than your regular wristwatch, the Pebble remains fairly slim and watch-like, with support for any regular 22mm strap, water resistance to five atmospheres (around 50 metres) and a seven-day battery life, which can be charged via a proprietary USB cable.
Controlled by three buttons on the right and one of the left side of the watch, Pebble has a simple menu system to access music stored on your Bluetooth-connected smartphone, set alarms, and alter the date and time - there's also a backlight so the screen can be read at night.
The backlight is activated with a flick of your wrist, thanks to the watch's accelerometer, which can also be used to measure distance while running, although this feature is not yet available.
Pebble wants to build a developer community around its smartwatch, and so a software development kit (SDK) was also announced at CES, giving programmers the tools they need to create apps for the watch.
Initially, Pebble will only be accepting new watch face designs while it continues to build the operating system (over-the-air updates will be sent out to users every couple of weeks, the company claims), but once the OS is finished, developers will be encouraged to create more functional apps.
Although Pebble has tried to keep things as simple as possible, there is support for If This Then That, which can be set up to ping the watch with RSS feeds, news headlines, weather forecasts and more.
The Pebble is available to pre-order now in white, black, red, orange or grey, and costs $150.