Cesc Fabregas expects Chelsea to turn down any approach for Thibaut Courtois if Real Madrid attempt to sign the "best goalkeeper in the world", in the summer. The Spaniard also added he never feared Diego Costa would leave the Blues for China during the recent January transfer window.
Real Madrid have reportedly earmarked the signing of a new number one to replace Keylor Navas as a top priority for the coming transfer market.
Manchester United number one David de Gea has also been linked with the role but Spanish Radio Station Cadena Cope reported earlier in January that Courtois was "crazy" about the possibility of making the move to the Champions League winners, as he still has his family in Spain.
The radio station added that the Chelsea stopper had even told his teammates at Stamford Bridge about his desire to return to Spain.
Pressed by Cope if he suspects Real Madrid will attempt to sign Courtois in the summer, Fabregas replied: "I don't know. It would not surprise me because for me he is the best goalkeeper in the world and the best teams in the world will want to have the best goalkeeper in the world.
"But Chelsea are a big club and Thibaut is very important for the future of this club, especially because of the aspirations that Chelsea also have ahead of the coming season. If you are in the Champions League and you want to fight for the Premier League and for other titles you need to have the best players and Thibaut is certainly one of them."
Diego Costa's future at Chelsea had also been under intense scrutiny during the last January transfer window. Manager Antonio Conte even left the Spaniard out of his squad for the 3-0 victory over Leicester City amid confirmed interest from Tianjin Quanjian in luring the striker to Chinese football with a big-money offer.
However, Fabregas said that such a move was eventually never on the cards as it made no sense for Chelsea's top scorer to leave Stamford Bridge mid season.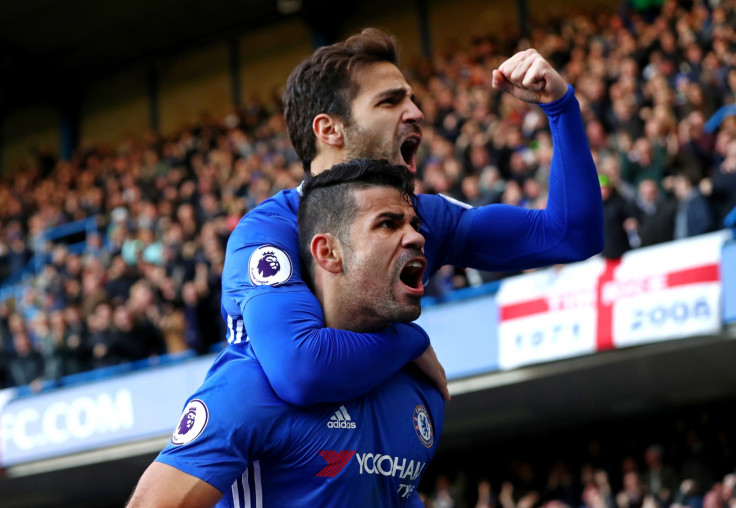 Asked whether he ever feared Costa would move to China, Fabregas added: "No, not at all because Diego is my friend, I have a great relationship with him and I was up to date with everything. I know that in no case Diego wanted to leave Chelsea. It has no logic. He is the top scorer of the Premier, we are leaders, he has been the most important player for the team so far this season. The truth is that at no time he thought about leaving.
"He has always been calm. There are things in football that happen but there was not a serious issue. Everything is sorted out fast and well here. I've always seen Diego focus in what he wants to do: win the Premier and fight for the FA Cup. He is a professional and is very loved here."