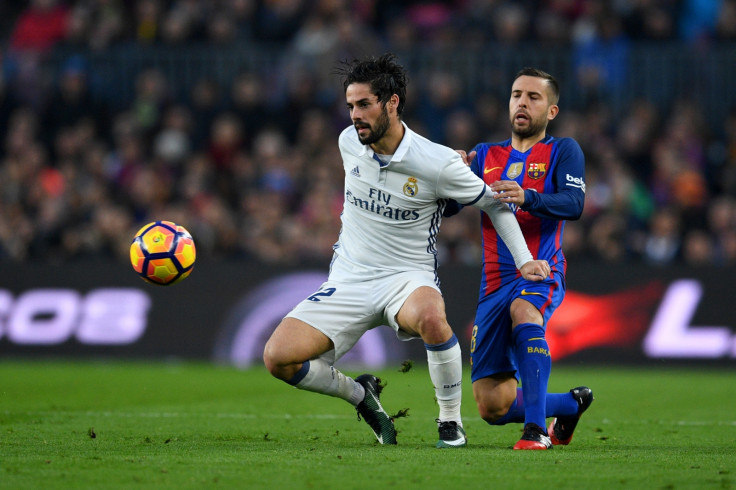 Jordi Alba has added more fuel to the speculation linking Isco with a shock move from Real Madrid to Barcelona after claiming that "all good players are welcome" at the Nou Camp.
Isco, 24, admitted at the weekend that he could consider a summer move away from Champions League winners after having grown frustrated with his lack of playing time.
"I am calm with my future but I am worried about having minutes," he said to beIN Sports after the victory over Espanyol. "A player's career is short, so by the end of the season I will make a decision because it is my future that is at stake."
Marca later added that the Spanish international has eventually decided to leave Real Madrid, with City being currently in pole position to secure his services ahead of Chelsea, Juventus and Barcelona.
Isco still has a contract at Real Madrid until 2018 but Los Blancos would be forced to part ways with him in the summer if Isco refuses to sign a new deal as they would not want to lose him on a free transfer.
Mundo Deportivo has suggested the reason Isco is refusing to sign a new deal is to push through a possible move to Barcelona once his contract expires in 2018. Real Madrid will not sanction Isco's departure to their arch-enemies but would be unable to prevent his move to Luis Enrique's side if his is out of contract.
Zidane failed to calm down Los Blancos fans in the preview of Real Madrid's 2-1 defeat to Valencia and left him on the bench for the whole 90 minutes of the game despite his side desperately needing an equaliser.
Now Jordi Alba has opened the Barcelona door to his former Valencia teammate to add more fuel to a saga which is expected to make the headlines in Spain in the coming months.
"I appreciate Isco, I know him from my time at Valencia and I know that he has a lot of talent. But beyond that, time will tell," Jordi Alba said to the Spanish reporters as quoted by Mundo Deportivo.
Meanwhile, Jordi Alba also backed his side to turn around their struggling situation ahead of a crucial trip to Atletico Madrid, pointing out that Barcelona are still fighting for the treble.
"We are alive. We must improve and we know that we depend on Real Madrid as they are ahead of us. On Sunday we play half of the title at the (Vicente) Calderon. It's a difficult stadium and the result there will have massive moral value. Atletico fans push a lot and we can not fail anymore, although there is still a lot of League ahead," the Barcelona left-back said while expressing his full support to Luis Enrique.
"I'm with the manager to death. He has helped me a lot to learn some concepts that I did not master. We have been magnificent for three years with Luis Enrique and we all back him. He's the best coach we can have. He knows the house and he knows us,"
"We all share the blame. But do not forget that we are already in the Copa del Rey final, that we still have options in La Liga and that we will try to turn around the things in the Champions League (following a 4-0 defeat to PSG in the first leg of the last 16.)"