From Upton Park to the Champions League final, Saturday's (6 June) meeting between Barcelona and Juventus in Berlin will reunite Carlos Tevez and Javier Mascherano once again.
In one of many key battles to take place across the pitch at the Olympiastadion, the two Argentines are likely to duel throughout the night, with Tevez to act as his side's tormentor-in-chief against Barcelona's backline. The former Corinthians star comfortably leads Juventus's goal-scoring charts this season with 29 in all competitions, 15 more than second-placed Alvaro Morata, and if someone is to breach Luis Enrique's newly rigid defence, the 31-year-old will be given free rein to pick his way through.
While the predatory instincts of Alvaro Morata cannot be forgotten about either, the unrelenting drive of the man wearing the famous number 10 will be Barcelona's biggest problem. Having been granted greater licence to roam by his coach Massimillano Allegri this season, the sight of the burly forward powering his way through the heart of the opposition shook Real Madrid to their core in the semi-final.
Tevez tore through the Spanish giants will the effervescent enthusiasm that has defined his game. On that night, Raphaël Varane and Pepe were too tentative in their failed attempts to tame him. Tevez easily shook off the Frenchman to force the attempt on goal that eventually teed up Morata for his side's opener in the first leg. It was his powerful burst into the box that drew a foul from Dani Carvajal that earned the penalty he duly dispatched to put his side a commanding position.
Despite the presence of the metronomic Andrea Pirlo, Barcelona will be expected to dominate possession on Saturday. It is what they do, after all. The forward bursts of Tevez and his ability carry the ball forward will be vital to the Bianconeri's hopes of breaking down the Barcelona machine. The La Liga champions will need someone who is ready to go to war with him.
To still call Javier Mascherano a makeshift centre half makes little sense nowadays. As he demonstrated for Argentina at last summer's World Cup, the 30-year-old is still a formidable presence in midfield, winning possession for his side with unrelenting tenacity before simply moving the ball on to someone with more creativity than he if he is unable to find the right pass himself. Out of 25 of his 39 appearances this season have come in the heart of defence, however, usually alongside Gerard Piqué. While the presence of the 6ft 3 Spaniard makes up for Mascherano's single obvious deficiency as a centre half – he stands at just 5ft 7 tall – the battle-hardened Argentine is well-schooled in the role and has been for a number of years.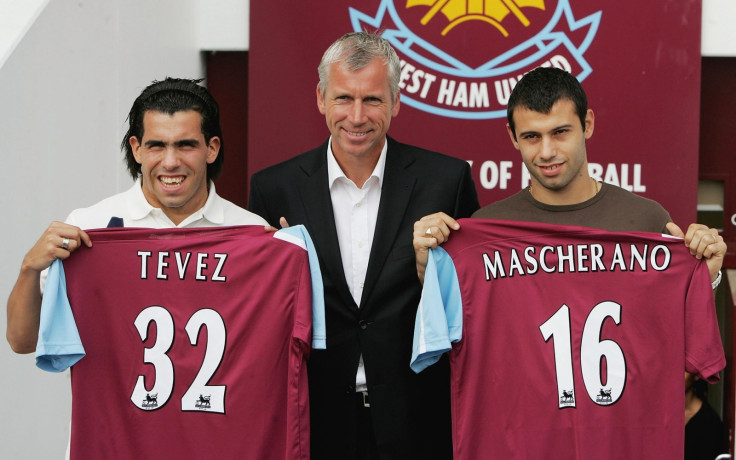 Should he start there again on Saturday, as he did in both semi-final legs against Bayern Munich and in Saturday's Copa del Rey success over Athletic Bilbao, he will likely be the man tasked with tempering Tevez. Both are perhaps as tenacious as each other and while the forward's extra burst of pace hands him the advantage if it comes down to a straight foot race, that won't be news to Mascherano.
The two players, who Alan Pardew didn't fancy in the Premier League, have come a long way. While Saturday will be the first occasion the two come together in an old-school centre forward versus centre half showdown, they have been on opposing sides before. On four occasions the two lined up against each other in battles between Manchester United and Liverpool, each finishing on the winning side twice. When Tevez crossed the Manchester divide he would line up against his countryman once more before Mascherano left Merseyside to join Barcelona.
Saturday, however, is something else entirely. While the role of another Argentine in Lionel Messi will predictably dominate proceedings in the build up to kick off, the battle between two others who will always be synonymous with each other could prove to be just as significant.