Shakhtar Donetsk 1-1 Manchester United
Manchester City 1-3 Bayern Munich
Bayer Leverkusen 2-1 Real Sociedad
Juventus 2-2 Galatasaray
Real Madrid 3-0 FC Copenhagen
Paris Saint Germain 3-0 Benfica
Anderlecht 0-3 Olympiakos
CSKA Moscow 3-2 Viktoria Plzen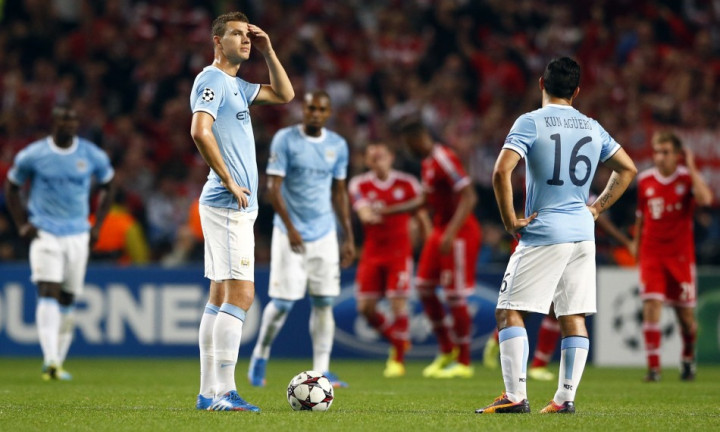 21:47: Most teams in this year's competition are going to be second best to Bayern Munich, but the gap between the two sides gaped remarkably wide tonight. Joe Hart will look back on two of the goals knowing he should have done better, but such was the quality of Bayern's well drilled and unerringly lethal XI, it seems only right that the Bavarian giants took a comfortable win.
Pellegrini's will want to improve, but the two goal margin is more of a testament to Bayern's power, rather than City's weaknesses.
21:42: Shakhtar's stunning record against English opposition continues, but David Moyes and Manchester United will take this hard earned point from a game that typifies trips such as these after a very tough evening in Ukraine. Welbeck's opener almost saw the Premier League champions take a win, but a deserved equaliser deep in the second half ensures that the spoils were shared.
The United boss may feel slightly disappointed after seeing his side lead for so long, but such is life. United sit top of Group A on goal difference ahead of tonight's opponents, with back to back games against Real Sociedad next on the agenda.
21:35: Final whistles being blown across Europe.
21:34: Full time: Shakhtar Donetsk 1-1 Manchester United
21:33: After winning Juventus' penalty, Quagliarella nods in a would-be winner for the Bianconeri. But no! a scuffed shot from Bulut finds its way past Buffon to level things up again.
Goal! Juventus 2-2 Galatasaray (Umut Bulut, 88)
Goal! Juventus 2-1 Galatasaray (Fabio Quagliarella, 87)
21:29: Bayern left slightly stunned by Negredo's goal, and one player suffers a rare lapse in concentration. Yaya Toure manages to skip ahead of Jerome Boatang and is almost through on goal. One late challenge later, the defender is shown a red.
Red Card - Bayern Munich (Boatang, 86)
21:26: Shakhtar are flying now. David de Gea is forced to make a brilliant reaction save. Ilsinho, Taison and Adriano move the ball around the box before the eventual cross takes a nick of Smalling. De Gea bats the ball over the net, and eventually gets the ball back after a succession of corners.
21:24: Vidal levels for Juventus from the spot after Fabio Quagliarella was brought down in the box.
Goal! Juventus 1-1 Galatasaray (Arturo Vidal, 78)
21:22: Brilliant goal from Negredo! The returning Silva slips a cute ball through to his countryman who turns brilliantly on the edge of the box and curls a perfect shot past Neuer into the back of the net. Not a bad shout from Pellegrini introducing the former Sevilla star.
Goal! Manchester City 1-3 Bayern Munich (Alvaro Negredo, 80)
21:18: United are peg backed. Rakitskly, the man at fault for the opener, hustles his way down the left before firing a ball across goal. Vidic is across but the ball bounces off the Serbian outstretched leg into the path of Taison, who absolutely smashes an effort into the back of the net, nearly lfiting the goal out of the ground. Unstoppable shot.
Goal! Shakhtar Donetsk 1-1 Manchester United (Taison, 76)
21:15: Van Persie has a chance to extend United's lead. Rafael surges down the right and finds the Dutchman whose shot is blocked by the boot of Shakhtar's Yaroslav Rakitskiy.
21:13: Make that three. Angel Di Maria joins his compatriot on the score sheet.
Goal! Real Madrid 3-0 Copenhagen (Di Maria, 71)
21:10: Fellaini comes off to replace by Ryan Giggs. The Belgian hasn't had his best evening, struggling to retain possession and failing to win his duels with the tireless Taison in midfield. Giggs makes his 145th appearance in the Champions League, number one in the all-time list ahead of Raul now.
21:09: Ronaldo doubles Real Madrid's lead, rising above the Danish defence to connect with Angel Di Maria's cross, thumping the ball into the net.
Goal! Real Madrid 2-0 Copenhagen (Cristiano Ronaldo, 65)
21:07: Meanwhile in Ukraine, Vidic is booked for hauling Douglas Costa down rugby union-style. A lot more urgency from the home side now.
21:05: Hart is forced to make two more saves as Bayern threaten to strike again on the counter. First Robben, then Muller draw better saves from the City shot stopper.
21:03: Pellegrini replaces Dzeko with Negredo but it makes no difference. Kroos wins his battle with Fernandinho and plays in Robben who bears down on goal before firing low past Hart. The City stopper is beaten at his near post and again, should have done better.
Goal! Manchester City 0-3 Bayern Munich (Arjen Robben)
21:00: City have slightly improved in the second half but the German champions are unrelenting. Dante plays in a diagonal ball which finds Mullet who has lost his marker in the City box. The Germany international easily rounds Joe Hart and guides the ball into the back of the net.
Goal! Manchester City 0-2 Bayern Munich (Thomas Muller 56)
20:57: Another brilliant intervention from Vidic. Shakhtar menacingly threaten to pass their way into the box and nearly manage it when a through ball almost finds the feet of Luiz Adriano. Again, the United captain gets his body across and gets to the ball before the Brazilian before shepherding the ball out to safety.
20:55: Former Arsenal man Carlos Vela misses from the spot but converts the rebound to bring Real Sociedad level against Bayer Leverkusen.
20:53: David De Gea bravely collects a wicked Shakhtar cross from the right and gets a bang on the head for his trouble as Adriano bundles over the Spaniard.
Goal! Bayer Leverkusen 1-1 Real Sociedad (Carlos Vela)
20:51: City earn themselves two corners early in the second half. Progress! But they come to precisely nothing.
20:50: Shakhtar threaten to break through United's line of defence twice in the space of three minutes, but two sublime interventions from Vidic calm the situation.
20:47: Back underway across Europe for the second half of tonight's action.
20:45: In the dying seconds of the first half, Simon Rolfes put Bayer Leveruksen ahead against Real Sociedad, tapping in after his powerful header was well kept out by Claudio Bravo in the Sociedad net.
20:39: Moyes will be pleased with his side's first half performance with Manchester United a goal ahead. United's goal came from a slightly contentious throw in, but a good cross from Fellaini and an instinctive run from Welbeck after a defensive error ensures they have the advantage. Shakhtar have been tenacious in their efforts to stifle and dominate the away side in midfield and enjoyed lots of possession in the United half.
The away side looked happy to soak up the pressure towards the latter stages of the half, but will have to keep hold of the ball when they do get hold of it in the second half, something they have struggled with so far.
Half time scores:
Shakhtar Donetsk 0-1 Manchester United
Manchester City 0-1 Bayern Munich
Bayer Leverkusen 1-0 Real Sociedad

Juventus 0-1 Galatasaray
Real Madrid 1-0 FC Copenhagen
Paris Saint Germain 3-0 Benfica
Anderlecht 0-1 Olympiakos
20:33: Half time at the Etihad Stadium. A thoroughly one sided game so far as Bayern look every bit the title of the best team in Europe suggests they are. Relentless pressing, incisive passing and all-around dominance have seen Manuel Pellegrini's side utterly outclassed so far, and worryingly, there doesn't seem to be a thing they can do about. City are fortunate to still be in the game - in terms of the score line anyway - and Pep Guardiola will be wary of home side snatching something as this game continues.
20:31: Half time at the Donbass Arena. United go in a goal up.
10:28: Sergio Aguero picks up a yellow for a frustrated foul on Rafinha. Alaba and Ribery have both been outstanding for Bayern who really should be further ahead. Hasn't been much of a contest so far such as been the dominance of the reigning champions.
20:25: Didier Drogba has given Roberto Mancini the perfect start to life with Galatasaray through a goal against Juventus in Turin.
20:23: van Persie skips into the box on the right hand side and leaves his man on the floor before another manages to ship the ball out. Chris Smalling comes close to meeting the resulting corner with a run from deep into the box, but doesn't get the right contact. Shakhtar attack on the break, but De Gea gathers the resulting shot from Alex Teixeira comfortably.
Goal! Juventus 0-1 Galatasaray (Didier Drogba, 36)
20:20: Bayern are getting into dangerous positions with worrying ease for City. Richards is left to deal with the threat of both Alaba and Ribery and inevitably the Austrian whips in a dangerous cross that somewhat luckily deflects into the grateful arms of Hart.
Goal! Paris Saint Germain 3-0 Benfica (Zlatan Ibrahimovic, 30)
20:17: City perhaps lucky not to be 2-0 down. Muller beats Clichy in the air and nods the ball down to Robben who lets his shot off from 15 yards out. Really should have troubled Hart, particuarly given what happened early in this match.
20:15: United not in complete control following Welbeck's opener, but coping noticably better in dealing with the home side's swift attempts to cut through their defence. Taison having an impressive evening in midfield for Shakhtar.
Goal! Paris Saint Germain 2-0 Benfica (Marquinhos, 25)
20:10: Ronaldo adds another Champions League goal to his tally, nodding in Marcelo's cross at the far post.
Goal! Real Madrid 1-0 Copenhagen (Cristiano Ronaldo, 21)
20:05: United are ahead! Valencia picks the ball up from a throw in and finds Fellaini, who impressivelty holds off his man as he tries to dart into the box on the right. The Belgian gets his ball away but Yaroslav Rakitskiy looks to have intercepted it. He hasn't at all, making a complete hash of it allowing Welbeck to pounce and sweep home the opener.
Goal! Anderlecht 0-0 Olympiakos (Kostas Mitroglou, 17)
Goal! Shakhtar Donetsk 0-1 Manchester United (Danny Welbeck, 18)
20:03: United nearly forge an opening of their own as Welbeck looks to play a one-two with Fellaini on the edge of the box, but the England man's touch on the return ball is heavy, and the move falls apart.
20:01: Bayern have taken control in Manchester. Ribéry menancingly cuts in from the right before teeing up Schweinsteiger. The German gets a shot away but its saved by Hart, who manages to hold onto this one.
19:58: Shakhtar have started extremely well in Ukraine, causing a number of early problems for United. Douglas Costa, who United tried to sign four years ago, is shaping up to give Rafael a tough evening.
19:55: Moments before that Ibrahimovic opened the scoring for PSG, meeting a cross from Gregory van der Wiel Gregory van der Wiel with ease to put his side ahead.
19:53: Bayern are ahead! Awful, awful start for Joe Hart who gifts the opener. Rafinha plays in Ribery who works his way in unchallenged and fires a harmless effort towards goal from 25 yards out. The ball trickles through Hart's arm and into the back of the ent. Nightmare start for City.
Goal! Paris Saint Germain 1-0 Benfica (Zlatan Ibrahimovic, 6)
Goal! Manchester City 0-1 Bayern Munich (Franck Ribery, 7)
19:51: City earn the first corner of the game which eventually falls back of for Nasri who launches it back in. Richards rises, but it doesn't threaten Neuer in goal.
19:48: Very high tempo in the opening minutes at the Etihad Stadium, Bayern already implementing their relentless pressing game.
19:44: Moments away from kick off across Europe.
19:37: Micah Richards is making just his second start of the season, and it must be said, tonight is probably going to be a little more intense than a Capital One Cup clash with Wigan Athletic. Given the brilliant form of Zabaleta, it's a big call from Manuel Pellegrini.
19:34: That's a total of NINE changes made by David Moyes from the side that lost to West Brom at the weekend, only David De Gea and Michael Carrick survive. Shakhtar's manager suggested this week that squad rotation - a facet of the game apparently not as prevalent during his time at Everton - was the source of the Scot's early woes at Old Trafford. Can Moyes prove him wrong?
19:31: In Turin, Carlos Tevez has recovered from an ankle injury and starts up front for Juventus, while Paul Pogba has been preferred to Claudio Marchisio in midfield.
19:27: The mere suggestion of the world's finest full back in Phillip Lahm anchoring the Bayern midfield wouldn't have been considered left of field last season, morwe full blown mental. But Pep Guardiola would appear to swear by it now. The resurgent Rafinha occupies his previous home at right back.
19:23: David Moyes has cleared up the Wayne Rooney story; he would have liked to have named Wayne Rooney in his squad tonight, but the England international suffered a shin injury yesterday that swelled up this afternoon.
19:19: Shakhtar may have lost the influential trio of Fernandinho, Willian and Henrikh Mkhitaryan over the summer, but they will be looking to Brazilian duo Luiz Adriano and Douglas Costa to provide the guile to open United up this evening, two of five Brazilians in the Ukrainian side's starting XI.
19:14: Elsewhere, a familar face in the form of Iker Casillas returns for Real Madrid - his first appearance at the Bernabeu for nearly nine months.
19:09: Aguero returns to the City XI to partner Edin Dzeko up front. Pep Guardiola's Bayern side don't start with any clear striker, with Franck Ribery, Toni Kroos, Thomas Muller ana Arjen Robben all starting. The two Marios - Gotze and Mandzukic - settle for spots on the bench.
19:08: No Rooney in the Manchester United squad due to illness, Robin van Persie starts his first game since United's 4-2 win over Bayer Leverkusen two weeks ago.
Line Ups - Shakhtar Donetsk v Manchester United
Man Utd: De Gea, Rafael, Smalling, Vidic, Evra, Carrick, Fellaini, Valencia, Cleverley, Welbeck, Van Persie
Shakhtar: Pyatov, Kucher, Shevchuk, Rakitskiy, Hubschman, Fernando, Costa, Teixeira, Srna, Adriano, Taison
Line Ups - Manchester City v Bayern Munich
Man City Hart, Richards, Kompany, Nastasic, Clichy, Toure, Fernandinho, Navas, Nasri, Aguero, Dzeko.
Bayern Munich: Neuer, Rafinha, Dante, Boateng, Alaba, Ribery, Lahm, Schweinsteiger, Kroos, Robben, Muller.
19:03: Before bringing you the team news, both United and City were in action in the UEFA Youth League today. The Manchester clubs had contrasting afternoons; find out how they got on here.
19:02: Elsewhere tonight, former City boss Roberto Mancini takes charge of his first European game as Galatasaray's head coach against Serie A champions Juventus, while Real Madid will be hoping to remedy last weekend's painful defeat to city rivals Atletico with a win against Copenhagen. They will be trying to do that without Gareth Bale however.
19:00: Good evening and welcome to IB Times UK's LIVE minute by minute coverage of tonight's Champions League action. After free-scoring starts to their European campaigns, both Manchester United and Manchester City are in for sterner tests this evening as David Moyes' side take on the Ukrainian champions Shakhtar Donetsk, while Manuel Pellegrini's troops host current holders Bayern Munich.