Champions League Scouting Report: Arsenal Facing Trio Of Troubles In Round Of 16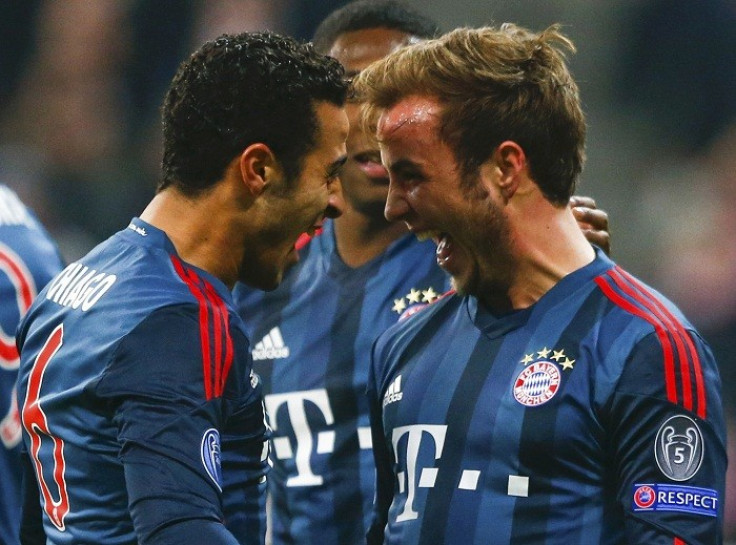 How They Got There:
The current holders had a seemingly easy run into the final 16, defeating the likes of Viktoria Plzen and CSKA Moscow without breaking too much of a sweat. When it came to Manchester City though, despite bursting out of the blocks in the final match against the English big-spenders Bayern nearly lost their top spot in Group D to the side after a number of defensive mistakes. The game ended 3-2 in City's favour and Manuel Pellegrini's mathematical error resulted in his side not pushing for the final goal. It has certainly left Pep Guardiola with some re-thinking to do over his tactics and he will be hoping that Munich don't allow for any more defensive relapses in the next round.
Who Can Cause the Most Damage:
It's difficult to pinpoint exactly who can be the standout player for Munich with even their second team looking dangerous against most European opposition. Toni Kroos, Thomas Muller and Mario Mandzukic all scored goals against Arsenal in last season's Champions League leg in London but it's not only the forwards Arsene Wenger needs to worry about; with Mario Gotze Thiago Alcantara and seasoned stars Arjen Robben and Franck Ribery all requiring the upmost concentration from the Gunners' defence. Can Olivier Giroud lead an attack against the likes of Brazilian duo Dante and Rafinha and led by captain Philipp Lahm? Wenger certainly has his work cut out.
Domestic Form:
Bayern have won nine of their last 10 matches and are currently seven points ahead of second-placed Bayer Leverkusen at the top of the table. They won the Bundesliga last season in record time and whilst doing so claimed the German Cup and the Champions League. It's safe to say that their credentials make them tough to beat on their day.
The Manager:
Pep Guardiola certainly has a Champions League pedigree to suggest he has the experience and knowledge to take a side all the way. In his four years as head coach of Barcelona the Spaniard was able to take home the trophy on two occasions, also winning the tournament as a player when it was the European Cup in 1992. He certainly knows how tough it is to win it, and the quality of his current side suggest he could replicate his success with the Catalan giants.
Prediction
Bayern won't let a lack of concentration set in like with Manchester City this season or Arsenal in the campaign before. The side have only improved since the beginning of 2013 and despite the Gunners also improving they don't have a back line available good enough to handle Bayern's attackers, nor the attack to salvage the game when they fall behind. 4-1 over two legs to the Germans.
© Copyright IBTimes 2023. All rights reserved.