Full time: Real Madrid 1-0 Bayern Munich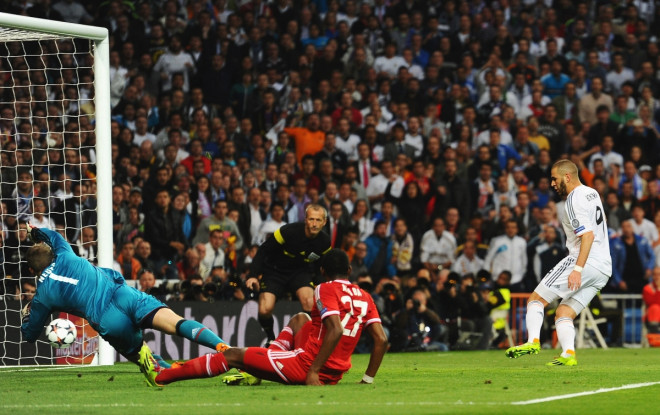 21:37: Real Madrid will take a narrow advantage into the second leg of their Champions League semi-final against Bayern Munich after Karim Benzema's early goal. Bayern pressed but couldn't test Iker Casillas on a regular basis and have it all to do in order to keep hold of their crown.
That's all we've time for on this Champions League live text. We'll have full coverage of the second legs next week, but until then goodbye.
Full time: Real Madrid 1-0 Bayern Munich
21:35: Muller wants a penalty and do they have a case? Mandzukic's header back finds Muller who turns away and is felled by a chalenge from Xabi Alonso. Replays suggest referee Howard Webb makes the right call though.

21:33: Four added minutes at the Bernabeu.

21:30: Gareth Bale bares down on Dante, gets to the byline but only cross into the side-netting. Madrid look like they're going to hold onto this narrow advantage.

21:27: Well that's the chance for Bayern. Real fail to clear on the edge of their own box as Modric and Ramos get in a mess and the ball is fed to Gotze who is denied by a brilliant save from Casillas. What an opening.

21:24: Thomas Muller shoots wide from 20 yards as Bayern pile on the pressure late on.Illarramendi on for Isco as a Bayern corner goes straight into the hands of Casillas.

21:22: Pep Guardiola growing increasingly frustrated in the Bayern dugout at his side's lack of invention and attacking impertus. Really struggle to think of a single save Casillas has had to make. Entering the last 10 minutes in the Spanish capital.

21:17: Cristiano Ronaldo off with 17 minutes remaining and replaced by the flu-ridden Gareth Bale. His first appearance since he destroyed Marc Bartra a week ago.

21:15: Both Pepe and Sergio Ramos down in the Madrid box after another Bayern attack fizzles out they both go down again. Bayern make a seciond change as Mario Gotze replace Frank Ribery. Rafael Varane now comes on for Pepe.

21:11: Javi Martinez on Rafinha off is Pep Guardiola's first reaction to what he's seen in the first three quarters of their first leg. Real seeing a little bit more of the ball now however and now Ronaldo tests Neuer, who turns the ball behind.

21:05: Is that a genuine Bayern chance? Real get caught with too many men ahead of the ball and Robeen springs away and with Madrid defenders backpedalling he toe-pokes towards goal but Casillas' long barrier is enough to prevent him.

21:03: Free-kick from the right for Bayern. The delivery is a good one and Xabi Alonso is forced to take action heading the ball away just three yards from his own goal.

21:00: Copa del rey match-winner Gareth Bale goes out to warm-up at the Bernabeu and is given a huge standing ovation. Curious to see him on the bench despite suffering from flu. Could play 20-30 minutes but not the full 90. Looks likely we'll see him at some stage.

20:57: Little change in the flow of this game, with Bayern enjoying sustained periods of the ball without offering much threat while Real continue to attempt to run down the clock or break whenever they can. Like last night's game, the tone has been set for the entire tie.

20:50: First chance of the second period comes for Real who have rediscovered their pressing game. Isco wins the ball back and when Alaba doesn't clear his pass over the top, Ronaldo latches onto it and forces Neuer into a good low save.

20:47: Second half under way at the Bernabeu. Will we see a change in momentum?

20:33: All the possession with Bayern Munich but the lead at half time in this Champions League semi-final first half is with Real Madrid. Karim Benzema's cool finish has the hosts ahead but both Ronaldo and Di Maria should have added to the advantage. Pep Guardiola's team have dominated possession but Iker Casillas hasn't been forced into a save as yet.
Half time: Real Madrid 1-0 Bayern Munich
20:30: Isco makes the bizarre decision to backheel the ball when Real have four against three in their favour and the attack breaks down. No doubt Bayern are giving Real enough reason for encouragement here.

20:27: Another great chance for Real, who should be out of sight in this tie already. Isco's cross sees Bayern's defence converge on Ronaldo and when the ball goes over him Angel di Maria control the ball unmarked at the back post but only smashes over the bar. Golden chance for Real.

20:25: The holders are exerting their authority again and Xabi Alonso has to be on hand to block from Robben's effort on the edge of the box. Real's pressure on the ball has eased and it's allowing Guardiola's men to dominate. Real need half time.

20:21: Robben very much the focal point of every Bayern attack at the moment but he's not having his best game on his return to the Bernabeu. His cross sails straight into the arms of Casillas to end the latest attack from the visitors.

20:17: Bayern continue to press and Pepe again has to do well to head away Robben's cross with Mandzukic coming in. The Croatian will be crucial to the visitors playing slightly more directly tonight, with the heart of the Real defence having a soft centre.

20:12: Real should be two up. The hosts move it quickly through Modric and Benzema puts it on a plate for Ronaldo who shows a bit of rustyness having been out injured by skying the ball over. What a chance to take a grip of this tie.

20:10: More even game now as Ronaldo and Di Maria both test Neuer but the German international is equal to the efforts. Bayern clearly rattled but are attempting to slot back into their passing rhythem. A dipping Dante header forces Casillas into an easy save.

20:06: Would you believe it? Real Madrid launch their first attack of the game and take the lead in the semi-final. Ronaldo feeds the maurauding Coentrao on the left who ghosts in behind Dante and cross low towards the back post where Benzema taps into a virtually empty net. After all of Bayern's style in possession, Real's substance sees them go ahead.

Goal: Real Madrid 1-0 Bayern Munich (Karim Benzema)

20:00: First effort in anger from Bayern and it comes from Arjen Robben. Schweinsteiger feeds the ball into the Dutchman on the edge of the box and he turns and shoots in one movement but his effort is deflected wide. From the resulting corner, Schweinsteiger heads straight at Casillas.

19:56: Real seeing nothing of the ball in this opening 10 minutes. Bayern monopolising possession though they aren't showing much in the form of an attacking threat. The impact of this 80,000 Bernabeu crowd has been nulified though.

19:51: Bayern trying to take the string out of this tie early on with some decent possession football inside the Real half. Robben forces a corner against his former club but Pepe heads away the cross before Kross' shot is blocked. Good start from Guardiola's men.

19:45: Under way at the Bernabeu. Howard Webb is our referee.

19:42: What approach will both teams adopt tonight? Real must surely show some caution but having not scored in only one of their last 59 games at the Bernabeu they are unlikely to resist their attacking tendancies. Bayern like to control the game but how keen will they be to go looking for an away goal? Facinating as both teams take to the pitch.

19:36: Less than 15 minutes until kick-off in the Bernabeu where the atmosphere is building ahead of what should be a cracking evening. Both teams already have a piece of silverware to cherish this season, with Real having won last week's Copa del Rey final against Barecelona while Bayern won the Bundesliga title in record time in Germany. No doubt this game represents both side's biggest of the campaign so far however.

19:15: We're talking about so much more than a Champions League semi-final at the Bernabeu. Tonight we have two of the giants of European football colliding for a record 15th time in the Champions League. These two sides have won 14 European Cups between them and both clubs are under immense pressure to add to that total. Bayern are of course looking to become the first club to retain the trophy against a Real team chasing an unprecedented 10th title
19:08: So the big teams news from the Bernabeu is that Cristiano Ronaldo returns but Gareth Bale misses out with flu. Bayern start with Philipp Lahm in central midfield and with Mario Manzukic in attack.
19:05: Teams:
Real Madrid: Casillas, Pepe, Ramos, Fábio Coentrão, Carvajal, Xabi Alonso, Modrić, Di María, Isco, Ronaldo, Benzema
Bayern Munich: Neuer, Dante, Rafinha, Boateng, Lahm, Ribéry, Robben, Alaba, Schweinsteiger, Kroos, Mandžukić
19:00: After Tuesday night's stalemate at the Vicente Calderon, we return to Madrid with the promise of goals. Real Madrid host Bayern Munich as Pep Guardiola returns to the Bernabeu where he is unbeaten as a manager. Carlo Ancelotti, among the outsiders for the vacant position at Manchester United, is under pressure to add to the Copa del Rey crown his side claimed last week but can call upon Cristiano Ronaldo tonight against the reigning champions. There are plenty other glittering names to feast upon tonight and it should be a real cracker.