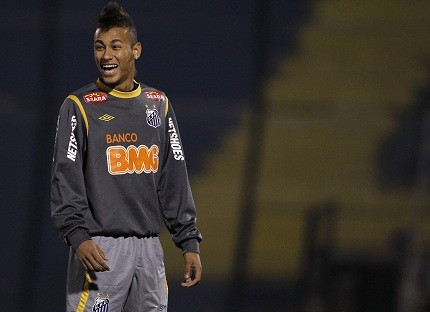 Chelsea target Neymar has revealed he believes Barcelona will defeat Real Madrid in El Clasico this weekend, with the Brazil international still being surrounded by transfer rumours.
Neymar recently signed a new contract with South American side Santos, and the 19 year old expects to be with the club until after the Brazil World Cup in 2014.
But with the tournament less than three years away, and Neymar set to be around 22 years old when his contract at Santos runs out, if he keeps his brilliant form, sides around Europe will no doubt be part of an epic transfer tussle for the starlet.
Chelsea have long been connected to Neymar, with Roman Abramovich reportedly taking a personal liking to the striker. Real Madrid and Barcelona are also believed to be very interested in taking on the hitman.
And with the high pressure grudge match between the Spanish rivals set for this Saturday, Neymar has admitted that the players he looks up to the most belong to Barcelona.
"I am very fond of Dani Alves and I always support him. I'm going with Daniel and Adriano," he told Mundo Deportivo.
"Barca are the best team in the world. They all play the ball. Xavi, Iniesta and Messi are crucial and I hope to play with them live."
Santos take on Barcelona in the Club World Cup at the end of the year, and scouts from clubs including Chelsea will be relishing in the thought of watching Neymar come up against the world's best.
And Neymar is planning on not only standing up against the current La Liga title holders, but defeating them, and showing that he has what it takes to be a European talent.
"I'm already looking forward to the Club World Cup. We are working to get well-prepared so we can make history again," he said.
Neymar is said to currently be worth a fee in the vicinity of £50 million, and while that would seem like a lot of money for even a club of Chelsea's capacity, Andre Villas-Boas insisted last week that no player is too expensive for the club if they can improve the Blues' line up.