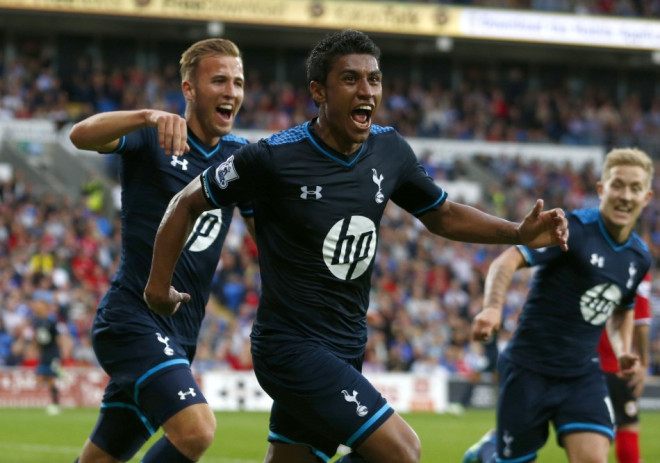 Tottenham Hotspur midfielder Paulinho has reportedly agreed terms in joining their league rivals Chelsea in the summer.
According to the Metro, the Blues boss Jose Mourinho is an admirer of the Brazilian international. The former Real Madrid manager is keen on bringing the Spurs star to Stamford Bridge.
Paulinho joined the north London club from the Brazilian outfit Corinthians last summer. He has featured in 28 league games this season, scoring five goals and managing two assists in the process.
The Brazil international has failed to stamp his mark for the White Hart Lane club. He is believed to be considering making a move away from his current employers at the end of the season.
The west London club are keen on taking advantage of the opportunity. The Metro claims the Blues have already agreed terms in landing the Brazilian midfielder as Chelsea are eyeing to seal the deal for Paulinho before the start of the World Cup in June.
The 25-year-old is represented by Giuliano Bertolucci, who is also the agent for Chelsea's Brazilian duo of David Luiz and Oscar. The Express reports that Paulinho's representative is playing a vital role in helping his client seal a move in joining Chelsea.
The midfielder had a good start to his Spurs career under their former manager Andre Villas-Boas. Paulinho has seen his form dip and his appearances restricted under Tim Sherwood, who had warned the Brazilian that his reputation would not assure him a place in the starting XI.
Meanwhile, Paulinho has revealed that the managerial change at White Hart Lane has made it difficult for him to adopt under Sherwood.
"It is difficult, of course, when the manager who signed you and who brought you here to play after just a little time loses his job," Paulinho said last month.
"It is hard because of the connection you have, but all you can do is try and do your job to the best of your ability and try to impress the manager who has come in and hope he wants a player with your characteristics."
"It is hard to know the style of every player and how they want to handle things. But I can only speak with respect for him – every manager has their approach, their philosophy, their way of talking, a different opinion," the Spurs midfielder added.