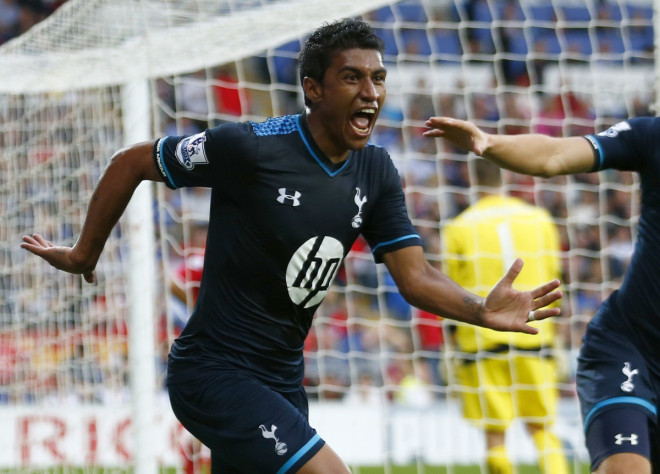 Tottenham Hotspur manager Tim Sherwood has told Paulinho that he will not regain his place in the first team until he begins to impress him in training again.
After a bright start to life at White Hart Lane Brazil international Paulinho has struggled under Sherwood, who has persistently looked to 19-year-old Nabil Bentaleb to marshal his midfield.
The £17m summer signing from Corinthians has been dogged by injuries in 2014 but has been left on the bench in key fixtures when fit. The powerful midfielder was omitted from the starting line up in month's clash with Chelsea at Stamford Bridge and in the north London derby against Arsenal and was an unused substitute in the recent win over Southampton.
Paulinho has been a regular fixture in Luiz Felipe Scolari's Brazil team but his lack of game time in the final months of the season could put his place in the Seleção starting line up in jeopardy.
But Sherwood has defended his selection policy and has urged the Brazilian to focus on his club aspirations rather than casting an eye to the summer's World Cup in his homeland.
"I pick players on what they are doing in training, not on reputations and price tags," Sherwood said. "I can't be worrying if the Brazil national manager wants him to play every week. I am going to do what is best for Tottenham, not any national manager.
"He knows if he trains well and plays well, he stays in the side. He's come here from another country and the language has been a problem for him.
"Settling into the Premier League, it's a different game from what he has been used to. It's very fast with no respite and we play a completely different way to the Brazil team and the team he has come from.
"He won't find any Premier League team similar to what he has been used to. But he trains well and wants to be a success."