Chelsea are set to begin talks with goalkeeper Thibaut Courtois to discuss his long-term future at the club after reports in Spain suggested that Barcelona were interested in signing the Belgium international.
Courtois is currently in the middle of a second season-long loan at Atletico Madrid and has earned plenty of plaudits for his performances. He was handed the difficult task of replacing David de Gea but has excelled in Spain and there have been suggestions that Barcelona are beginning to show an interest in the keeper.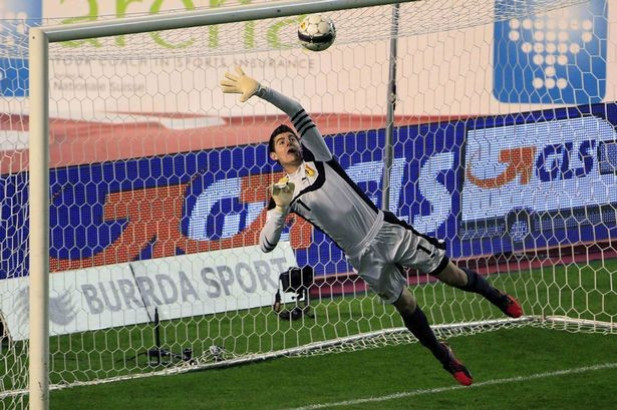 The Spanish giants are in the process of looking for a new number one after learning that Victor Valdes would not be renewing his contract and will leave the club in 18 months time,
However, Coutois's father Thierry has made it clear that these are merely rumours and that he is very much a Chelsea player.
"At this moment there is no contract with Barcelona. A few days ago Thibaut had contact with the goalkeeper coach of Chelsea, who will soon report on his progress at Atletico. When this is done, we will work with Chelsea and talk about his future," said Thierry Courtois, as quoted in the Evening Standard.
Courtois is still just 20-years-old but is already being viewed as one of the best young keepers in European football and Chelsea will be determined not to lose him.
The only problem for Chelsea is that their current number one, Petr Cech, signed a four-year deal last May and has been in excellent form.
There is little to suggest that the 30-year-old's powers are weakening and Chelsea are in the difficult position that it is almost impossible to offer Courtois regular first team football while Cech is still at the club.
Chelsea paid some £5million for the keeper back in the summer of 2011 but will have to be careful handling the situation as his form in Spain has alerted a number of clubs to his talent.