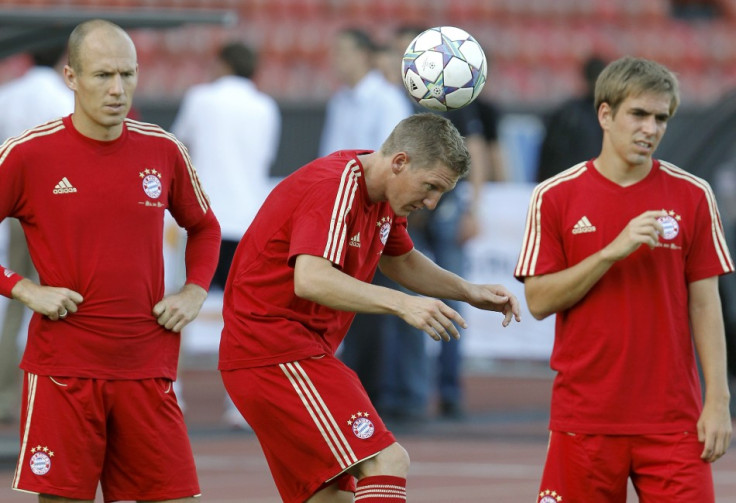 Bayern Munich captain Philipp Lahm has criticised his Chelsea counterpart John Terry for putting his team at risk against Barcelona in the Champions League semi-final. Terry was sent off in the second leg at the Camp Nou for kneeing Chilean forward Alexis Sanchez in an off-the-ball incident and as a result will miss Saturday's showpiece event at the Allianz Arena.
"I couldn't believe it. I was so surprised, not by the red card but what he did to earn it. Would I describe it as irresponsible? Let's just say I would never have done something like that. It simply wouldn't have happened to me. Because as captain, I do everything for my team. That would have harmed them and I would not allow that to happen," the Daily Mail quoted Lahm as saying.
The 28 year old also sent a warning to Chelsea, stating that Bayern had learned from the defeat to Inter Milan in the final two years ago and boasted a more balanced squad this time around, under manager Jupp Heynckes. He added the club was ready to make amends.
"That defeat in 2010 has had a big influence. We have a lot of players still here who were with us two years ago and we all remember that experience. A team also grows through defeats and setbacks. We believe we can win the title more this time around," the Guardian quoted the Germany captain as saying.
"We believe we can win the title more this time around. We're more experienced now than we were two years ago, and what Jupp Heynckes has done with us is get a much better grip between the mix between offensive and defensive style. That showed in the Bundesliga, where we only conceded 22 goals," Lahm pointed out.
Bayern finished second to rivals Borussia Dortmund in both the Bundesliga and the German Cup and Lahm admits watching Chelsea lift the Champions League at Munich's home turf on Saturday would cap a disastrous end to the season.
"In my house? Naturally, that would be awful for us. I'm from Munich. I was born in this town. I am one of those [Bayern] supporters and I know how much winning this competition means to them. I am one of them," the Mirror quoted the wing-back as explaining.
"Thank God [in the event of defeat], we'll be flying immediately to the European Championship afterwards. But of course we want to win [Champions League]. Hopefully, it will not be a problem for us to come up against," Lahm added.