Toni Kroos' agent Volker Struth has given hope to Chelsea in their pursuit of the Bayern Munich star, denying recent Spanish reports which claimed he had already agreed personal terms with Real Madrid.
Prestigious Spanish newspaper Marca reported on its front page Real Madrid are on the verge of completing their first summer signing after agreeing a five-year deal worth €5m a year with the German star.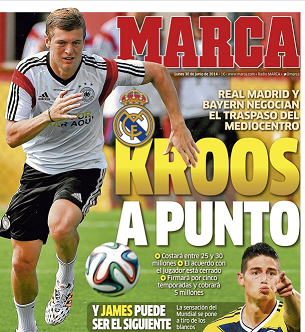 Marca also added negotiations between the club are advanced and a fee between €25m and €30m has been proposed.
However, Kroo's agent has quickly denied those reports claiming that the Bayern Munich star is still uncertain about his future.
"There is no agreement or Real Madrid or any other team," Struth was quoted by AS.
"Toni is currently playing the World Cup, which is the main priority now. Before the end of the tournament there will be nothing new about his future."
Chelsea and Barcelona have also been recently linked with Kroos while Manchester United were also interested but are now reportedly out of the race after signing Ander Herrera.
The 24-year-old has only one year left on his contract at the Allianz Arena and could be available for just £20m, a bargain for a player considered one of the world's best players in his position.
Chelsea have already signed Cesc Fabregas but reports in Spain claim Jose Mourinho is also keen on bringing him to Stamford Bridge, having tried to convince him to snub Real Madrid's proposal by offering a €8.5m a year salary.
Meanwhile, Barcelona officials are reportedly likely to offer Bayern a swap deal for Kroos, including the coveted Alexis Sanchez as part of the negotiations.
Meanwhile, Spanish newspaper El Confidencial claims Real Madrid are also monitoring Brazilian international Luis Gustavo should they finally fail to land Kroos.