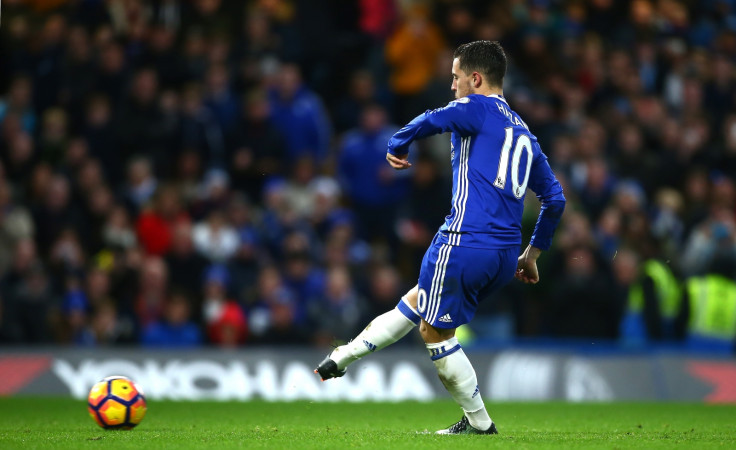 Antonio Conte has claimed Eden Hazard is happy at Chelsea despite recent reports linking him with a move to Real Madrid. The Italian boss suggested that the club will not discuss a new deal with the Belgium international or John Terry until the end of the season as they are currently focused on conquering the Premier League.
Hazard's future at Stamford Bridge was under question last summer following a lacklustre campaign.
Earlier this week Marca reported that at the time Chelsea convinced the 26-year-old to stay one further season by promising him that they wouldn't reject any approach from Real Madrid in the following summer's transfer window if the Spaniards came knocking.
The report added that Los Blancos have earmarked his signing as a top priority ahead of the 2017-18 campaign. Zinedine Zidane has been vocal in his admiration for Belgian since his early days at Lille.
But asked in a press conference whether is true that Chelsea will be open to negotiating Hazard's departure to Real Madrid in the summer, Conte replied: "I'm repeating always the same thing: that now it's very important to be focused for my players on the present. We do not look forward because it's dangerous. What I can say is Eden is a Chelsea player. We are happy with him, he is happy with us. I don't see any problems with him."
"This is part of the game, these rumours [are made] to create difficulty in the mind of the players but I think we have great experience to face this situation. Also my players have this experience. It's normal in this part of the season to start with the rumours but I'm very happy because it means we're doing a great job with our players, because if there are request from other teams is because they are doing very well."
Talk Sporthas reported that Chelsea will hand Hazard a new lucrative deal in order to convince him to snub the overtures from Real Madrid and stay at Stamford Bridge for the long-term. Meanwhile, the radio station also added that the club will offer a new one-year deal to Terry despite the centre-back being a peripheral figure since the arrival of Conte in West London.
However, Conte has suggested that is still too soon to speak about that as his only focus is on securing the three points when Crystal Palace visit Stamford Bridge on Saturday (1 April).
"I repeat. I don't see any problem about our players," Conte responded when asked whether Chelsea are planning to give Hazard a new deal. "We all know we are at a great club with great ambition. There's great will to do great things in the future and the present. Don't forget that there are ten games to play and we hope to finish the season with great success for us, for the club and for the fans. I repeat we stay at a great club with great ambition. Our goal is to build a great team."
Meanwhile, asked whether is true that Terry could be given a new contract to continue at Chelsea one further season, he said: "For every situation there will be the right moment to face. The club is working very well to solve many situations we have to face. I repeat, John I like to talk to about this season, he's helping me a lot. He's doing a great job on and off the pitch. John knows my thoughts on him and I think that is the most important thing."